The rally in memory of Boris Nemtsov took place in Moscow and some other Russian cities 24 February. According to various estimates, in the capital, the number of marchers ranged from 6 to 10 thousand people, with the target number of applicants in 30 thousand. Representatives of non-systemic opposition honored with their presence.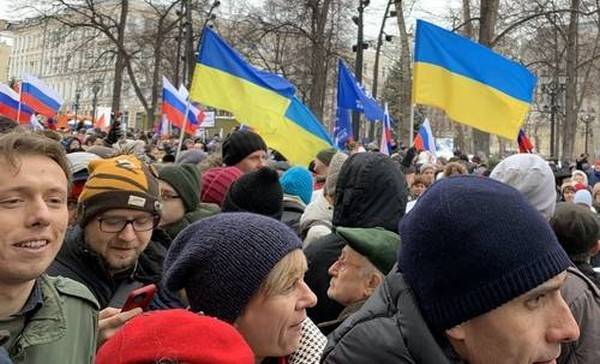 This time Ilya Yashin decided to act as a "leader of opinions" expressing the interests of the audience. Armed with harvested slogans, he tried to "ignite" the crowd with calls to speak for "Russia without Putin." Frankly sluggishly sounded completely unfounded chants like "Boris Nemtsov - the hero of Russia." Perhaps the name of the Russian president sounded at the event in memory of Nemtsov much more often than the actual "torch of the opposition" - this was the main feature of the rally. Yes, it was a rally, because tensions from unrealized political ambitions, emotional, but meaningless promises of change and a happy future in the event of a change of power were noticeably more than a sincere grief over the killed politician.
However, those few who found it necessary to attend the march did not initially perceive it as a mourning rally. On the frames of online reports, laughter of young people with banners is heard, for which participation in protest activities has become a lifestyle.
On the whole, the march of the 2019 model of the year is no different from last year's analogs, except for the emphasized silence of Alexei Navalny. He not only ignored the questions of the Radio Liberty journalist, but also did not notice the elderly man who wanted to personally pay homage to his idol. Perhaps he re-experienced the bitterness of the loss of Nemtsov and could not utter a word - and therefore could not even go the whole route, leaving the procession with his wife. The details of the relationship between the two titans from the opposition are not completely known, but they were not noticed in mutual sympathies during the life of Boris Yefimovich. So let's write off the ostentatious silence of Alexei Anatolyevich to unsuccessful PR.
A question that does not leave the viewer when observing a rather small column: what's the matter with the Nemtsov? If you remove his portraits, the semantic content of the action will hardly change. Coupled with the number of participants, which for a multi-million city can be considered oscillating within the limits of statistical error, the event cannot be called memorable or noticeable. And this is taking into account the fact that the march was agreed by the Moscow authorities.