In Pavel Derzhavin, the patrol ship under construction for the Russian Navy of the 22160 project was launched in Kerch. The solemn ceremony was held at the Shipbuilding Plant Zaliv LLC (managed by the Zelenodolsk Plant named after AM Gorky JSC), the bmpd blog reports.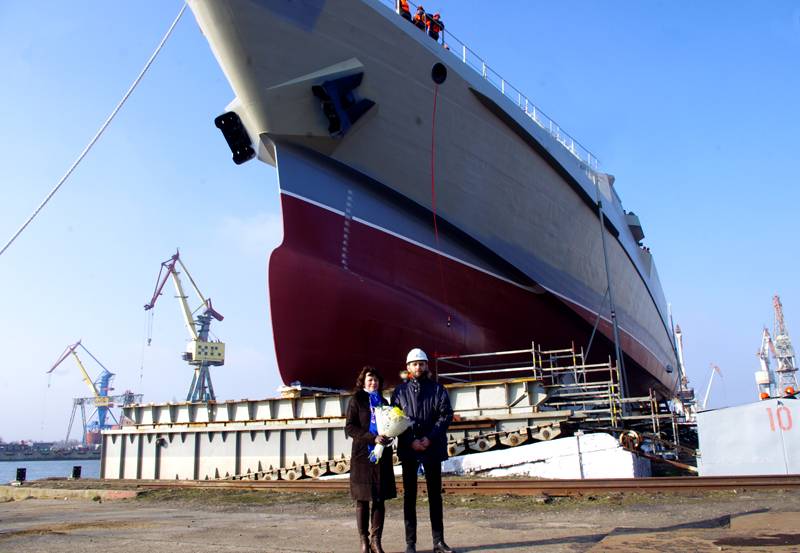 Patrol ship "Pavel Derzhavin" before launching. Kerch, 21.02.2019
The patrol ship "Pavel Derzhavin" is the third ship of the 22160 project and the second serial ship in a series of five units, as well as the first ship under construction at the Kerch GCC "Zaliv". The project of the ship was developed by JSC "Northern Design Bureau" (St. Petersburg). The contract for the construction of a series of patrol ships in the interests of the Russian Navy was concluded in 2014.
The first patrol ship under this contract (and the second in the series), Dmitry Rogachev, was launched in Zelenodolsk at the end of 2017, and towed to Novorossiysk in August 2018, where it began factory sea trials in September 2018. Now the delivery of this ship of the Russian Navy has been postponed to 2019. The second in the series "Pavel Derzhavin" and the third "Sergey Kotov" are being built in Kerch, the fourth and fifth patrol ships "Victor the Great" and "Nikolai Sipyagin" are being built in Zelenodolsk. All ships are designed for the Black Sea
fleet
.
The lead ship of this series of 22160 project "Vasily Bykov" was transferred to the Black Sea Fleet 20 of December 2018.
The construction of the entire series of these ships was delayed due to the import substitution of the power plant. All ships of the series, except the head "Vasily Bykov", on which the German diesel-gear units MAN are installed, will receive diesel-gear units produced by the Kolomna plant.