The authoritative Israeli-British project SimilarWeb, engaged in web analytics, in-depth data analysis and Internet research, recognized the Military Review website as the most visited resource in the world among defense-related websites. Among others,
Topwar.ru
it was possible to bypass all the sites of the US armed forces, as well as portals from almost 1.5 billion China and 200 million Brazil. VO is also the only Russian information project presented in the top ten.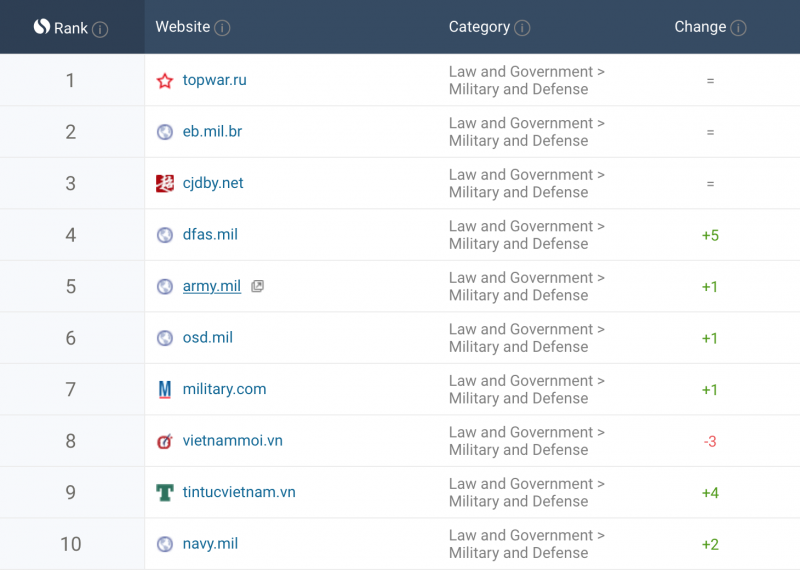 The three first places in the ranking were taken successively by Russia, Brazil and China.
The military review monthly gains more than 21 th million visits.
- Shows analyst SimilarWeb.
Next is the brazilian resource
Exército brasileiro
is the official site of the Brazilian army and is almost three times behind in attendance.
Cjdby.net
is a large Chinese local forum. And he and the other have a focus mainly on the domestic consumer: 97 percent of those visiting the Brazilian resource are residents of this country.
With the Chinese site the situation is more interesting. There, almost 13 percent of visitors are residents of the United States. This can be either a consequence of the active use of VPN, which Chinese people are increasingly using to overcome the "great Chinese firewall", or with a large community of immigrants from China and Taiwan living in America.
Further in a row are resources from the United States. Of these, the greatest interest
military.com
- "Newsman", specializing in defense topics, and
army.mil
, the official portal of the US Army. An army site is good, first and foremost, in a high-quality collection of photographic and video materials: in the United States they are able to create an image of their armed forces. Looking ahead, on the 10-th place of readers waiting for the site of the Navy of the same country: and it is interesting exactly the same.
Eighth and ninth place - at the information portals from Vietnam, in fact, are not specialized resources on the defense theme.
In total, the top 50 contains more 4 Russian resources on the relevant topic. However, one of them concerns it only indirectly - this is Navalny's site. How he got into 50-ku largest sites of defense subjects, not reported.
"Military Review" thanks readers for our overall result.