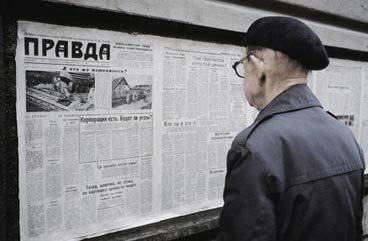 The tragedy of Russia is that the connection of generations has broken. Will anyone argue that young people, even in everyday matters, cease, or rather, have long ceased to listen to their elders? We are not an authority for it, because we are afraid of computers, shy of porn and turretless television and the Internet, getting confused in modern market realities, surprised at price spikes, and, most importantly, twenty years ago passed the Soviet Union, the only state that was worth respecting, gave up its power .
And to whom? Who are today's idols? On the show "
Historical
process ", an assistant to Svanidze, whose husband himself" suffered "for economic abuse, said that both Misha Prokhorov and Misha Khodorkovsky studied in her institute group, and both were Komsomol leaders. She called other fast-rich, but I did not mention.
So they gave the power to the jerks (who were they 20 years ago?). Well, why respect us young? Maybe Prokhorov is not for that, but for what? We are for her, at best, losers, and at worst - suckers, in a simple way - fools!
Don't you think, old men, that we are just being tolerated, condescending, waiting for us to go to the next world? By the way, Khakamada once expressed unequivocally about this, proposing to all those who remained to have patience and wait for us to leave in a natural way.
But will this solve the problem? What will change in the economy with the departure of the elderly, who grumble and resent over and for no reason? Will there be more factories and plants? Cattle population? Will GDP and fertility increase? Will the notorious "Russian cross" come to naught?
To the elderly should listen. If only because they, unlike young people, are worried about the future, even the one that is beyond the life line. After all, there are children and grandchildren, and if you're lucky, then great-grandchildren and great-great-grandchildren!
Noticed that I said "if you're lucky"? This is what we have to hope for - the basis on which Russia has stood for centuries, has become thinner before our eyes. Soon it and will not be. And you have to rely on luck.
Whoever is not indifferent to the future, knows: and indeed made a fatal mistake, succumbing to the promises of the "democrats". If you could replay! In August, 1991 would go under the wheels of the BMD of the Tula Airborne Troops and would not let it out of Tula. In October, 1993, having put off urgent business, would have gone to the Government House. Accustomed to discipline, we did not think that the state needed protection.
Today they have become smarter, but out of work. And those who are in business differ in amazing infantilism and egoism. They do not hold the power! "If youth knew, if old age could"! - Modern youth does not know anything, old people cannot live yet! We have to rely on grandchildren who, unlike children, are interested with us.
Our time will come in a generation — the grandchildren will return the Soviet power, for it has no alternative!
To me, who has worked all his life in the defense industry, it seems strange modern Russian defense. What is it based on? What postulates are guided by? Having retired, I nevertheless try to be in the know. Of the ten shell plants with which he worked, he deals with one, and he breathes his last. Maybe I don't know, maybe they built some kind of grandiose shell mill that replaces all the production at once? But no! If the latter will not, on the "fiery affair" you can put a cross! Chubais and Serdyukovs have closed their doorsteps with Russia from the beginning of the century, almost proudly since the days of the first Rurikovichs. They also have something to be proud of: after all, Nero also boasted about the burning of Rome!
In the program "Serving the Fatherland," I heard the incredible: "Professionals say that there will be enough ammunition in the Russian army for a hundred years! .." Is this why shell and ammunition factories unravel? Is it because there is a lot of Perm powder factory for the "democrats"?
Very few people understand the logic of statehood. Sometimes it seems that the high-brows Khazin, Glazyev, Delyagin and others like them write for themselves, convince a few like-minded people, and no one listens from the "democrats" to them. "Until the thunder clap, the peasant will not cross!" But not only that thunder is lightning, but nobody wants to be baptized anyway!
And why not try to turn to base, self-serving feelings, those that are now held in high esteem as never before? If that doesn't even come through, then it's time to close our story!
Twenty years ago, Prokhorov, Potanin, Khodorkovsky, Abramovich, Berezovsky, Deripaska could count on what was enough for their age. And together with them hoped the smaller ones hoped. But the time has gone - half the life of a "business" market. And it turned out: maybe not enough!
All Soviet eaten, everywhere you look, everywhere the bottom, wherever you throw, everywhere a wedge! And now Prokhorov, the hero of Courchevel, whose condition rests on Norilsk Nickel, created by the incredible works of the Soviet people, announces the desire to build an effective economy. But ... due to merciless exploitation (12-hour working day, draconian labor law).
And where did the well-received rooster Gorbachev "Komsomol" go? Lost, profukal, flushed down the toilet, spent on basketball? Or squeezed into a cam? Did he eat and drink sweetly, have plenty of fun, and now he has settled down and is now going to buy and build at home? Something I can not believe. The fox has fallen into the hen house, you can not discard anything ...
But it's not about Prokhorov's promises, but about our existence. Promises will come true when the cancer on the mountain whistles, and we will be about to kill. There is no business to Prokhorov!
No wonder for the young and the early - he had not yet recovered from the parties in Courchevel! The oligarch claims he does not intend to leave Russia. It is hard to believe in it, considering the property acquired abroad. However, let's say!
In this case, it is necessary to spend not on sports, but on defense. For the defense of the country and this money will not be superfluous. Or does he think, if the Yankees occupy us, will it not affect him? From an oligarch turn into a clerk, not even a conformist, but a collaborator?
I look at how Misha Prokhorov (I can call him that, because I am old enough to be my father) is grinning when they say something good about the Soviet Union and I am surprised: when did he have time to catch such hatred for the Soviet past? Unlike the other, he is quite prosperous! Surely every new million and billion added this hatred to him? Lord, he should go to church - repent! But will the former active member of the Komsomol repent, and therefore be an atheist who does not believe in God or the devil? Does he even believe in anything?
In the program "NTVshniki" Prokhorov said that only force can come to power. Here is his God! Remember, the oligarch believes only in force and warns everyone in advance that it will be used if this becomes necessary. Draw conclusions! There is very little time left!