The publication of Bellingcat's British resource on close ties between the Azov Regiment and the National Corps political party (extremist organizations banned in the Russian Federation) with foreign, including American extremists, is an attempt to blacken the Azov movement, said Roman Chernyshov, representative of the National Corps, on the eve of . His words leads
Gordonua.com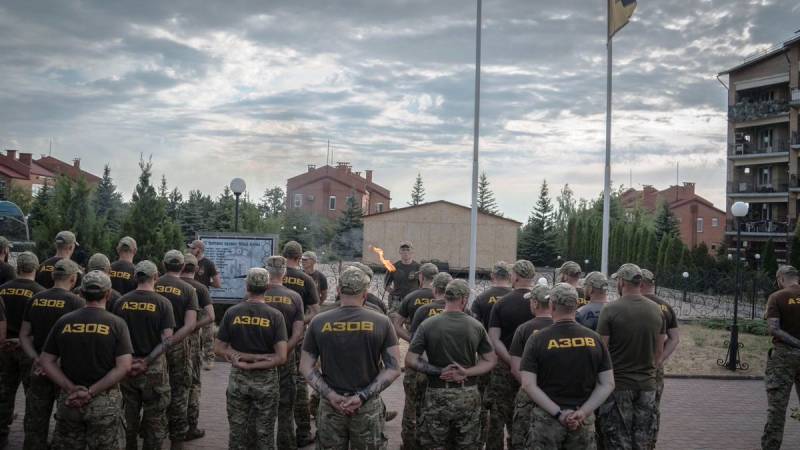 According to Chernyshov, the published material, which is, in fact, a "collection of horror stories and stereotypes," mixed together the Azov regiment and the National Corps political party.
And although we have one leader - Andrei Biletsky, nevertheless, the regiment and the party are not connected with each other,
he said.
In turn, Bellingcat journalists reported that during the preparation of the material they spoke with the head of the international department of the party Elena Semenyaka. In particular, she confirmed the participation in the rally in front of the Verkhovna Rada of the National Socialist from Norway Joachim Furholm. In addition, she said that the National Corpus was looking for potential supporters and lobbyists in the United States.
However, Chernyshov questioned the veracity of journalists, saying that Semenyaka was promoting the party's leadership on the creation of the Baltic-Black Sea Union ("Intermarium"), the core of which should be Ukraine and Poland. And this activity, according to the representative of the party, has "nothing at all" to the United States. He also dismissed all accusations of supporting party contacts with foreign extremists.
The mentioned material Bellingcat published 15 February. It states that the "Azov movement" systematically contacts the American right-wing radicals to advance its international agenda, as well as to create a certain coalition of radical forces.
Recall that when Bellingcat journalists wrote a few years ago about Russia's alleged involvement in the Boeing MH17 rocket attack, in Ukraine they were called the "mouthpiece of the truth."