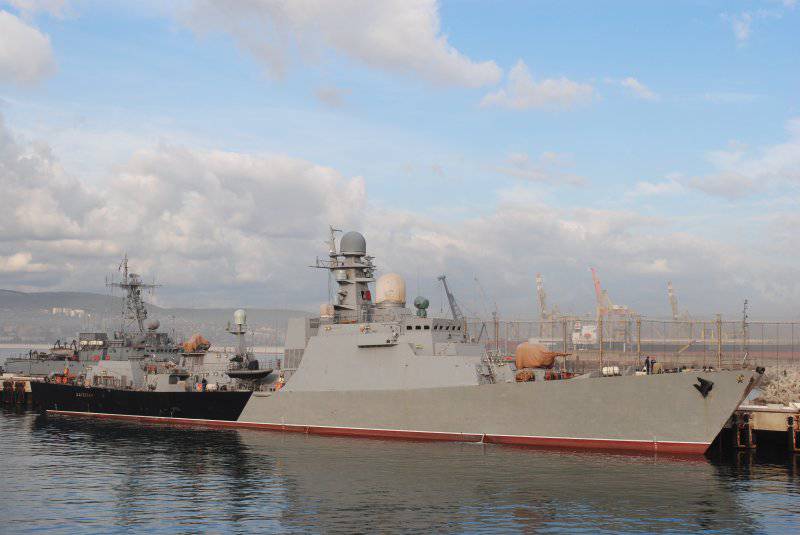 The composition of the Caspian flotation will soon include the Dagestan missile ship. Now the Project 11661K ship with the Caliber-NK missile system is completing state tests, most of which took place on the Black Sea. The commander of the Caspian said this at a meeting with the president of Dagestan, Magomedsalam Magomedov.
flotilla
Rear Admiral Sergey Alekminsky.
"The test results are positive," the flotilla commander said. "The ship is not bad with modern stuffing. Currently it is the most powerful ship in service of the Russian fleet. It has a missile system, the firing range of which is at surface targets 375 km, and at coastal targets - to 2 600 km. Such complexes with a powerful rocket
weapons
on surface ships in Russia yet, only on submarines. "
Approximately at the beginning of July the ship will go to the Caspian Sea, where the last tests will take place. After that, "Dagestan" will be fully accepted into the Russian Navy, the commander said.
The first presentation of the ship, said Alekminsky, will be held on the day of the Navy at the parade in Astrakhan.
"I am glad that one of the most powerful ships will be based here, on the Caspian Sea. This is important for our foreign friends, and for those who are not our allies, is a serious argument. The Caspian Sea and the Caucasus region as a whole today represent the intersection of the spheres of interests of different Therefore, Russia should have a powerful and combat-ready fleet here. I am sure that the Dagestan rocket ship and subsequent ships will increase this power, "said the President of the Republic of Dagestan.
As noted, the flotilla already has a ship of this class, but with a slightly different weaponry - the "Tatarstan". This year the third small artillery ship Makhachkala, built by the shipbuilding firm Almaz in St. Petersburg, was launched. In the near future, the Caspian flotilla will qualitatively change and strengthen its ship composition, first of all with the advent of Dagestan.