An article was published in the Kommersant newspaper, which describes the problems with the supply of materials for the further production of the Russian MS-21 aircraft. It is reported that the liner manufacturers are faced with the insecurity of composite materials for the manufacture of its wing.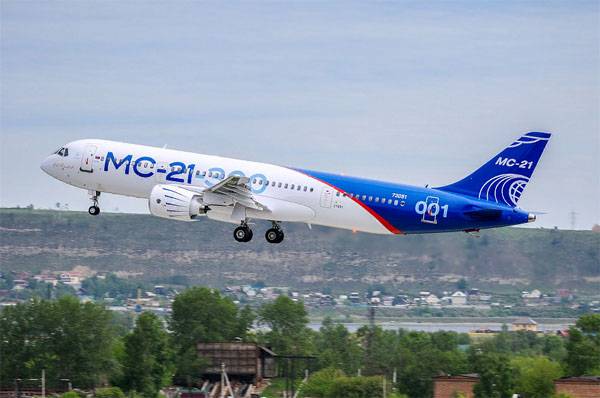 Previously, the contract for the supply of these materials was signed with Japan and the United States, however, due to the US sanctions and their support from Tokyo, the implementation of the contract was actually blocked.
Foreign composites planned to use in the production of the company "Aerocomposite", part of the KLA. Some components were supplied to Russia by Hexcel (USA) and Toray Industries (Japan).
In the material
"Kommersant"
says that the UAC (United Aircraft Corporation) is searching for a solution to the problem. In particular, together with Rostec, an opportunity is being considered to establish its own production of the required composites. However, in this case, the production of MC-21 will have to significantly shift in time. Plan B is also being considered, which consists of using metals as materials for creating a wing instead of composites.
Earlier it was announced that a composite wing of increased length should be one of the important advantages for the first medium-haul airliner created after the collapse of the USSR.
In Japan, which "wants" to sign a peace treaty with the Russian Federation under certain conditions, it appears that they continue to actively support anti-Russian sanctions, including in the civil sphere.