On the basis of the Central Aerohydrodynamic Institute, a new model of an unmanned aerial vehicle has been developed. This drone performs the flight according to the rules unusual for ordinary aircraft. The takeoff of the aircraft is completely vertical, landing - without a strip. The presence of such characteristics greatly expands its use.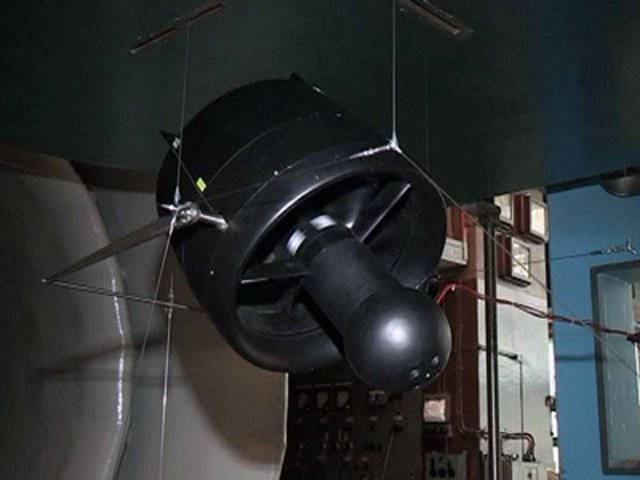 The absence of the fuselage, tail, wings makes this invention a little like the usual aircraft. This development has much in common with the flying fan: there is only an engine, guide vanes and a screw. This is the new unmanned flying vehicle. It differs from other UAVs in that it takes off vertically upwards, moves inside buildings and sits down without a runway.
According to the engineer of the TsAGI fan laboratory, Dmitry Sharov, this scheme has many advantages when compared with the classic helicopter and aircraft. That is, the fan is located in the ring, so that it can fly inside buildings, near buildings, as well as in rough terrain.
Located in the bow of the ball is the cargo compartment. Behind it there is an electric motor and a screw, and then a straightening device, which quenches the air whirl that forms behind the impeller. Movement control takes place using the flap. The unusual architecture of the drone frees him from having a starting device. And he can fly even within the city limits - he is able to go around obstacles and hover on the spot.
Speaking about all the possibilities of flight missions for the new Russian-made drone, Viktor Mitrofovich, who is the head of the internal aerodynamics department
aviation
and industrial systems of MK TsAGI, noted its ability to fly autonomously, along a given route, or switch to manual control.
Before the start of trial tests, the unmanned aerial vehicle will have to undergo tests in a wind tunnel. Here the air velocity is 130 km / h. The aircraft is attached to the aerodynamic weights. In this way, the force vector is measured, and then the trajectory is calculated.
One of the models of drone designed and created specifically for testing. The data is displayed on the computer, and then a control algorithm is built on their basis.
Today, TsAGI engineers are engaged in modeling take-off - only the ground is at the top, not at the bottom.
Demonstrating the test stand, Dmitry Sharov said that there is a screen on top that can be raised and lowered. Engineers will monitor the interaction with the screen, as it happens during a real flight with various buildings.
This development has attracted the attention of MES. However, the possibilities of its use are much greater than intelligence. An unmanned aerial vehicle can patrol city streets and buildings, move cargo, shoot. This device can be of any size - from fifteen centimeters to two meters. And in the near future - testing of the aircraft at the site.