In Kiev, an attack was carried out on the well-known aircraft designer of the Antonov enterprise, 81-year-old Viktor Kovalsky. The beating of an elderly aircraft designer occurred in a crowded place in the Ukrainian capital. Moreover, five unknown persons participated in the beating of a 81-year-old man.
As it turned out later, among those who had beaten the aircraft designer, two were representatives of the national police.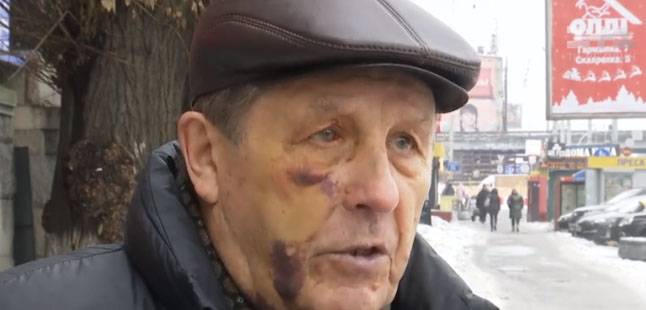 Viktor Kowalsky himself said that he was complained that he was allegedly a currency scam and "deceives people."
Ukrainian media cite statements by the aircraft designer, who received numerous bruises and hematomas:
A man in a red jacket allegedly changed some dollars somewhere. Allegedly, they threw him at 10 thousands. Showed me. But it later became clear. I knew nothing about it. The blows fell on me from behind, on the head. And next was a police car.
Instead of protecting Kovalsky, the police officers twisted him, put handcuffs on him and shoved him into a car.
In the hospital where Viktor Kovalsky was sent after the beating, he was diagnosed with a concussion and a back injury. It is noted that he has a "damaged tooth".
The aircraft designer, working in the industry for nearly half a century, wrote a statement to the police. In the Ukrainian media stated that open criminal records. The police officers involved in the beating are not currently suspended from work. No apologies were made to the aircraft designer.
For your information:
Viktor Kovalsky was a member of the An-74 and An-225 Mriya aircraft engineering groups.