In the victory over Nazi Germany, the middle
Tanks
allied states such as the American M4 Sherman and Soviet T-34, writes Sebastien Roblin in his article for
National Interest
.
According to the expert, one of the advantages of Western tanks over the early T-34 was in the crew size: 5 man vs 4-x Soviet tanks. At the same time, the T-34 had uncomfortable ergonomics and a cramped turret.
He notes that the booking of both cars was in many ways similar. At the same time, after 1942, when the Germans had a long-barreled 75-mm gun, not to mention the powerful guns on the Tigers and Panthers, their armor protection was no longer a problem for the enemy.
The author notes that the Sherman, after several hits from the new guns, gained a reputation as a tank that "flares up" due to the ignition of the ammunition. Engineers did not disregard this issue, and soon a tank appeared with special protection for the combat pack. In turn, the T-34 had another problem: due to the peculiarity of the armor, fragments could form inside it after entering the tank without breaking through.
The armament of the vehicles was also similar: the 75-mm guns were mounted on the Sherman, and the X-NUMX mm caliber on the T-34. These guns successfully destroyed tanks Pz. III, Pz. IV, but could not fight with frontal armor "Panther" and "Tigers", according to the material.
In this regard, in the 1944, in the armament of the Allies, new tanks appeared: T-34-85 (USSR) and M4A3E8 (USA). Machines received guns with increased armor penetration and more protected towers.
The tanks had similar mobility, while the T-34 perfectly manifested itself in difficult conditions of the Eastern Front thanks to the suspension and wide tracks. However, according to the author, the Soviet tank could often break, while the American one gained a reputation as a very reliable vehicle.
The expert emphasizes the simplicity and low cost of production of the T-34. The USSR managed to build 84 thousand thirty-four, while America - only 49 thousand МХNUMX.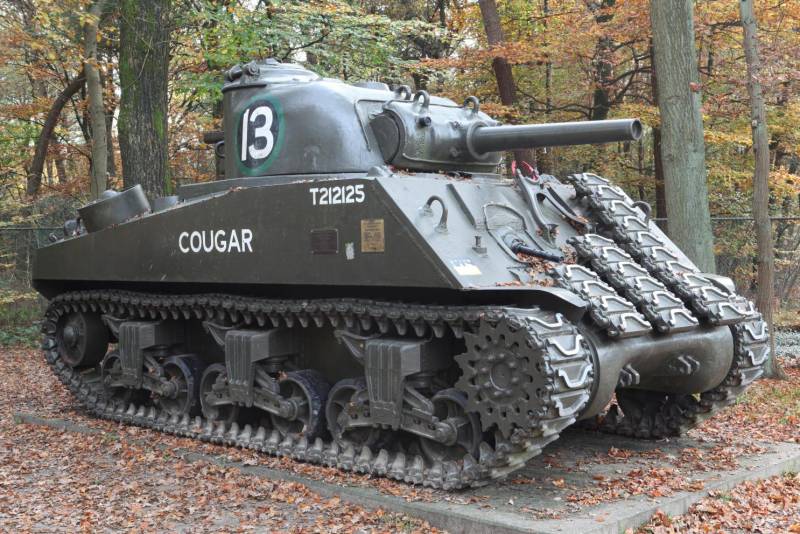 The main feature of the allied tanks was that they had sufficient characteristics to perform the tasks and could be massively produced in both countries. This circumstance played a significant role in the victory over the Third Reich, concludes the publication.