"Military Review" is the material in which the words and phrases of the year are collected - first of all, everything that was most discussed and, in one way or another, concerned Russia. All that, as they say, has left its mark.
Some of the words and phrases of the year have a pronounced character "learned only this year" - in the sense that some concepts from our list before 2018 were familiar only to a narrow circle of specialists, and some were not known at all to almost anyone.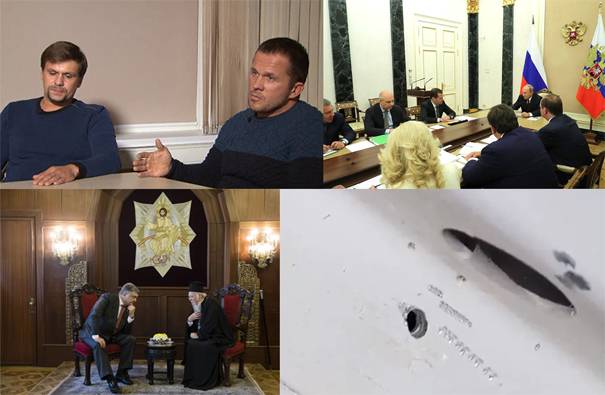 Words of the year from this series -
Novice and Salisbury
... On the pages of our informational publication only in
news
materials and analytical articles, these two words have been mentioned over 1 thousand times, including references in the reader's comments. The same group of words of the year can be attributed to the combination "Petrov and Boshirov", which is practically becoming a household word in our country.
In 2018, the phrase "London accused Petrov of using the Novice" actually became a steady idiomatic expression along with the phrase "We flew in to admire the Salisberezh spire".
Petrov and Boshirov
- it's not even a combination of words, it is the meme of the year.
The word of the year can be considered such a term as
"Tomos"
. Until recently, perhaps, few people, other than religious scholars, have heard of Thomos. But maydannaya tirelessness raised this term to the status of actively discussed. So far, not everyone (including Ukraine itself) understands what this word means, but this does not prevent the President of Ukraine from declaring that "Tomos" is Ukraine's next victory over "Russian aggression".
A whole set of military words of the year in Russia (and not only) - "Dagger", "Peresvet", "Avangard" and "Poseidon". This four names of their own casts doubt on the effectiveness of American spending on the military sphere - those same 700 budget billions of dollars of American taxpayers.
Phrases of the year:
"Pension reform"
, "Raising the retirement age" and "Improving the material well-being of Russian pensioners." The Russian government puts signs of identity between them, but not every citizen of Russia is ready to believe in the identity of all three concepts.
By the phrases of the year can be attributed, and such a combination as
"Hole in the" Union "
. Now the majority of Russians who get acquainted with news materials perfectly understand what is at stake, but they just can not understand how such a thing turned out to be possible.
Pleasing phrase of the year:
"Automobile traffic on the Crimean bridge is open."
We offer our readers
with your options
continue the list of words and phrases of the year related to issues of geopolitics and security in the comments.