On Sunday morning, the Chinese spacecraft Chang'e-4 went into a predetermined orbit, from which it would then land on the opposite side of the moon, reports
TASS
message of the national space agency of the country (CNSA).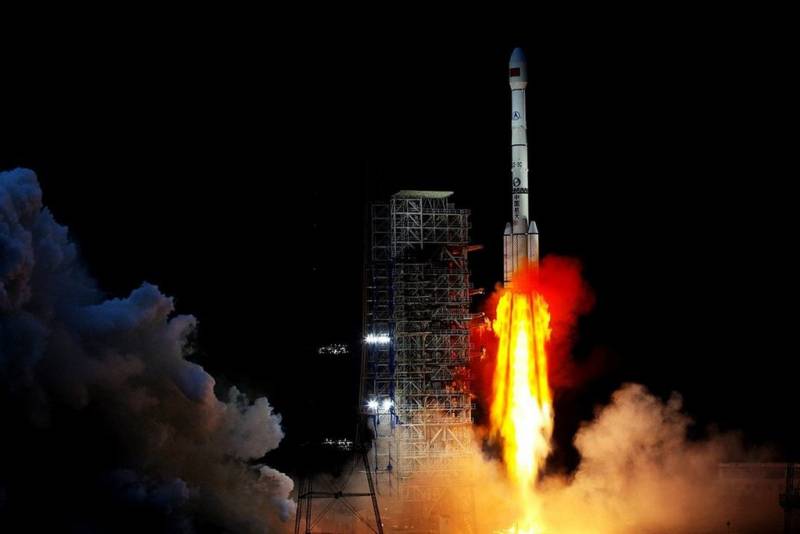 Launch of the carrier with the device Chang'e-4 from the Sichan space center.
According to the agency, in 03: 55 Moscow time the probe Chang'e-4 successfully entered an elliptical lunar orbit, the nearest point to the surface of the moon is 15km, and the most distant is 100 km.
From Earth's orbit to the lunar apparatus 12 passed December. Since that time, the control center staff has twice carried out work to balance its orbit, and also checked the reliability of the connection between Chang'-4 and Quiqiao repeater satellite. It is used to connect the device with the Earth. In addition, work was carried out on checking the onboard probe equipment, including range finders, in order to prepare it for landing.
Currently, the Center is busy choosing the right time to land on the reverse side of the moon.
Recall, "Chang'e-4" was launched on December 8. The main objective of the program is to study with the help of a lunar rover the least studied reverse side of a natural satellite of the Earth.
The device will land in the South Pole area in the basin of Aitken - the largest of the impact craters in the solar system. The diameter of the crater is about 2,5 thousand. Km, depth - 12 km.
As previously stated in CNSA, the first soft landing on the far side of the moon will be a real breakthrough for both China and the whole world.
Communication satellite "Queqiao" - the first in
stories
the apparatus, which began work on a halo-orbit at Lagrange point L2 on the far side of the moon. In this location, he is able to maintain a position with respect to the Earth and the Sun for a long time, providing communication with Chang'e-4.