On the territory of Turkey, mainly in its capital district and directly in the city of Ankara, as
сообщает
Turkish news agency "Haber Turk", a massive detention of radical jihadists.
28 December 2018 of the Anterra Anti-Terrorist Department of the Ankara Police Department successfully arrested 52 from 64 suspected of having links with the extremist Islamic State group (* banned in the Russian Federation). The search and detention of the remaining 12 suspects is currently ongoing.
The question arises: if the Turkish security forces have long been aware of the existence of a sufficiently large jihadist community in the official capital of the country, then why didn't their activity be eliminated earlier, but they only had to hold an operation to detain them when they supposedly showed their active struggle with IG before Donald Trump?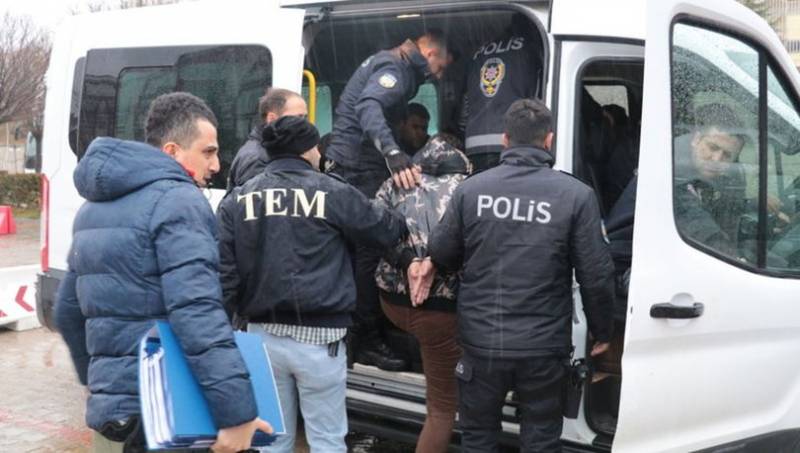 According to Turkish police officers, a certain amount of cold and firearms was confiscated from the arrested persons.
weapons
, cash collected as "jihad donations", as well as documents and propaganda materials confirming their connection with international terrorists.
Apparently, the operation was directly related to the recent decision of the US President to withdraw American troops from Syria, in connection with which the Turkish President assured his overseas counterpart (who had recently waged an economic war against his country) that "the Turkish army will take over the leadership baton of to combat jihadists in Syria and quickly and successfully destroy the last remnants of the "Islamic state" in this country. "
Well, Turkey, it must be said, never suffered from modesty, and regarding the elimination of the last hotbeds of resistance of the radical caliphatists in Syria, we will see how events will develop, perhaps it would have been more if Ankara did not interfere with the decision of Damascus, Tehran and Moscow to Idlib the problem.