One of the leaders of the Ukrainian extremist organization "Mejlis", banned in Russia, the recipient of US grants Mustafa Dzhemilev made a statement that you should pay attention to. According to Dzhemilev, from 2014, "Russia brought to the Crimea from 800 thousands to a million Russians."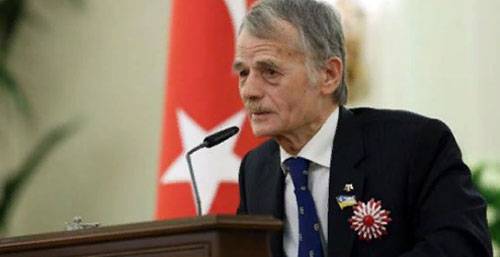 At the same time, Dzhemilev, whom the Ukrainian media called the "leader of the Crimean Tatar people," which does not cause anything but bitter irony, said that he had such data from some sources, which he, of course, cannot call.
Dzhemileva quotes UNIAN:
There are some sources, I will not talk about them now, which give us reason to say how much the number of people in the occupied Crimea has increased. We have their plans for a sharp increase in the population of Kerch, Sevastopol. To what extent are they performed? They are even exceeded - this is also evident.
At the same time, Mr. Dzhemilev does not specify how "Russia brought a million people to the Crimea", Are they really "echelons"? ..
It draws attention to how ordinary Ukrainians commented on these statements of the deputy grantoeda on the Internet pages of the Ukrainian media.
None of my friends, the Tatars, this impostor does not consider the leader.
So a million dumped in the Crimea from Ukraine itself.
And this is from a user from Russia:
And why haven't they brought me to Crimea yet?
Recall that Dzhemilev often broadcasts frank fakie about life on the peninsula. One of the favorites is "infringement of the rights of the Crimean Tatars" after the reunification of the Crimea with Russia. At the same time, the Tatars themselves living in Crimea note that Dzhemilev exploits the theme of the Crimean Tatar people exclusively from their own vested interests, not representing absolutely none of the representatives of the ethnos themselves living on the peninsula.