Against the background of accusations from opponents to the American president Donald Trump that he was the first president in 16 for years who had not met with the military at Christmas, the owner of the White House decided to "fix" the situation. Together with his wife, he made an unannounced visit to Iraq, where he held a meeting with representatives of the US military contingent at the Al-Asad base.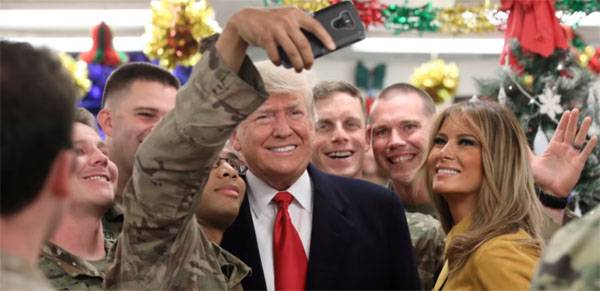 As usual, Trump called the meeting and the American servicemen themselves "incredible" and added in his tweet the words that God should keep America.
The US military asked the supreme commander whether he was going to withdraw the troops from Iraq too. According to Donald Trump, he does not plan such a conclusion. Recall that earlier, Trump announced the beginning of the withdrawal of US troops from Syria and preparing for the withdrawal of 7 thousands of military (50% of the contingent) from Afghanistan.
Trump, along with Melania, walked around the American base, visited the headquarters office and entered the dining hall, where, like a Hollywood star, against the background of Christmas decorations, he gave autographs and made selfies with the soldiers of the American army.
At one time, Barack Obama promised to withdraw the US contingent from Iraq. However, US troops remained in Iraq, which was explained by the emergence of the Islamic State terrorist group (* banned in the Russian Federation). Now, according to all the laws of the American genre, against the background of statements about the withdrawal of US troops from Syria, the United States authorities are simply "obliged to detect" terrorists or a violation of rights and freedoms elsewhere. Keeping an army solely on its territory is not the financial and geopolitical interest of the ruling clans in Washington.