Commander-in-Chief of the Russian Navy Vladimir Korolev made a statement about the new stage in the advancement of NATO forces and assets to the borders of Russia. According to the admiral, NATO is building up the military component at the western borders of Russia and increasing the scale of preparations.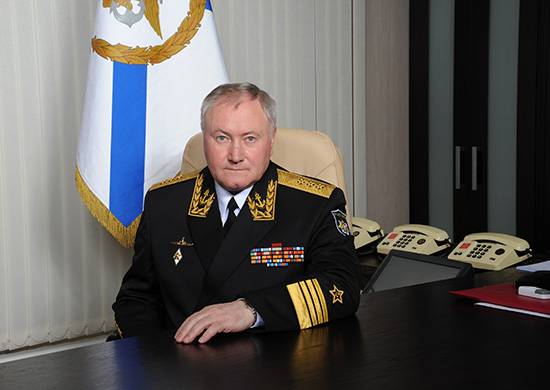 Vladimir Korolev noted that in the immediate vicinity of the Russian borders, the North Atlantic military bloc is deploying, including, high-precision strategic
weapons
. These words of the Commander-in-Chief of the Russian Navy are given by the main printed publication
"A red star"
.
Admiral Korolev noted that NATO military activity by definition makes changes to the plans of the Russian Navy
fleet
.
From the statement of the commander in chief of the Navy:
In 2019, the efforts of the Main Command of the Navy will focus on the further creation and development of a qualitatively new, balanced in composition and combat capabilities of the Navy, capable of jointly with other types and branches of the Russian Armed Forces to provide strategic nuclear and non-nuclear deterrence and protection of Russia's national interests.
The admiral noted that today Russian warships are present in a number of important areas of the oceans. According to Vladimir Korolev, at present, around 100, warships and auxiliary ships of the fleet provide a naval presence in the oceans, which allows "to eliminate threats from the main directions."
Recall that one of the zones of activity of the Russian Navy is the eastern part of the Mediterranean Sea. From there, the ships of the Russian fleet repeatedly delivered precise strikes against the targets of terrorist groups in Syria, which resulted in the defeat of the enemy manpower.