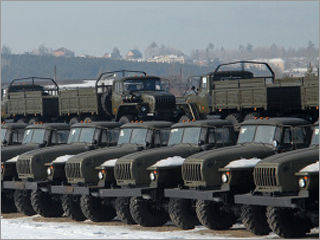 The Ural automobile plant (part of the GAZ group, Miass city, Chelyabinsk region) plans to submit a prototype vehicle for the army to the 1 on April 2011 of the year by April, the general director of the car factory, Viktor Korman, said on Tuesday.
"We are currently developing a new army vehicle according to the technical specifications of the RF Ministry of Defense. We'll present a prototype vehicle by April 1 2011. This will be a new generation car that meets all modern requirements," Corman told reporters.
According to him, the new car will have an enhanced aggregate base.
Korman said that currently the armies in 40 countries of the world have cars on the platform, which are produced by the Ural automobile plant. According to him, this year, about 15% of deliveries of automotive equipment are export.
"In 2011, the plant plans to double its exports," he added.
The Ural Automobile Plant was formed in 2001 as a result of the restructuring of the UralAZ production complex. The company is a member of GAZ Group and is the main asset in the structure of the Trucks division. The division also includes OJSC URALAZ-Energo and OOO Social Complex located in Miass of the Chelyabinsk Region, and OJSC Saransk Dump Truck Plant. The company employs 13,8 thousands of people. Due to the economic crisis, output in 2009 was only 39,2% compared to 2008 of the year.