The MiG-31 interceptor fighters conducted a doctrine over the Urals, including a missile attack with a conditional enemy aircraft, reports
RIA News
with reference to the Ministry of Defense of the Russian Federation.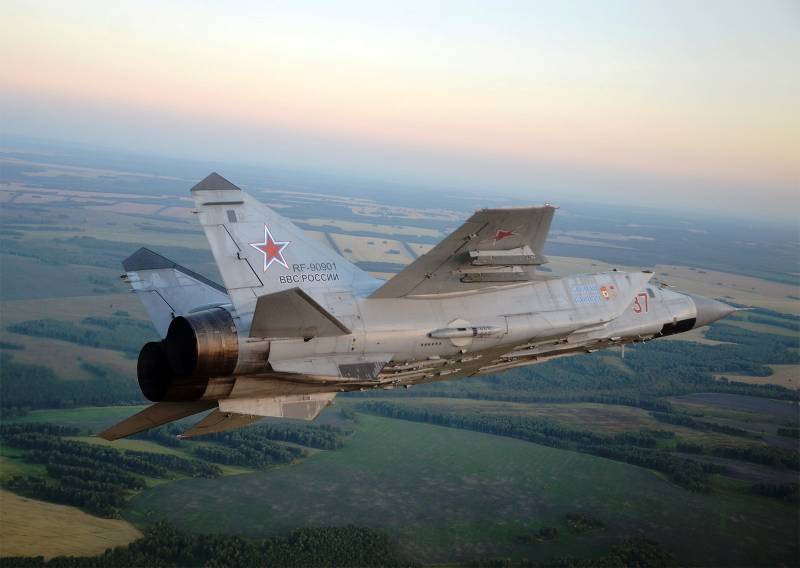 According to the exercise scenario, an order was received to invade the enemy's aircraft into the airspace of Russia. For the interception, the link of the supersonic interceptors MiG-31BM of the air regiment stationed in the Perm region was raised, the report says.
During the exercise, the pilots searched and destroyed cruise missiles at altitudes from 6 to 8 thousand meters and at a distance of up to 40 km.
The tasks were carried out under conditions of active counteraction from the air defenses of the conditional enemy, whose role was played by the C-300 air defense system located in the Sverdlovsk region.
In total, more than 50 units of equipment were involved in the exercise, including the 4 of the MiG-31 fighter.
Recall, two weeks earlier, the crew of the MiG-31 intercepted a cruise missile at an altitude of more than 15 thousand meters.
Having made a flight to a given area, the crew completed the search and destruction of the air target, the parameters of which were obtained from air defense weapons. Conditional goal - a cruise missile - flew in the lower stratosphere with a speed of 800 km / h, the destruction distance was about 100 km.
A feature of this interception was the rise of the aircraft to an altitude of 15 km in order to create optimal conditions for detecting the target. The speed of the fighter was about 2,5 thousand. Km / hour.
MiG-31 is designed to intercept and destroy targets at low, medium and high altitudes in simple and complex meteorological conditions at any time of the day. A group of 4 interceptors is able to control the airspace with a length of about 1100 km along the front.