In Severomorsk, a solemn ceremony of raising the flag of the auxiliary
fleet
on the new floating crane SPK-53150 (project 02690), reports
Mil.Press FLOT
.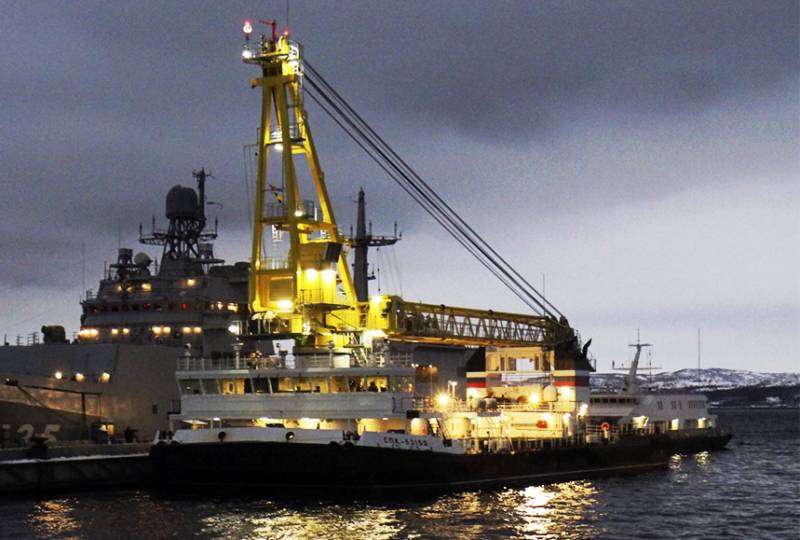 The event was attended by the deputy commander of the Northern Fleet Viktor Voronov, representatives of enterprises, the guard of honor and the military band of the Northern Fleet.
Plavkran built on shipbuilding company "Almaz" (St. Petersburg). The ship was the tenth in the series and the fourth built for the Northern Fleet.
It is noted that during its construction, engineers took into account the comments of sailors operating the first versions of floating cranes. Changes were made to the vessel's design, which significantly improved ergonomics, usability and safety.
On the Northern Fleet, the ship came 11 December. The crew took it and prepared for operation in the winter.
The project of self-propelled floating cranes (SEC) was developed in the KB "Spetssudoproekt". The vessel is able to perform various types of work, including loading
weapon
, install and remove raid equipment, carry out fitting of chains of fastening of floating moorings, transport cargo.
From 2014 to 2016, the year in St. Petersburg built 9 of such vessels. The Northern and Pacific fleets received a floating crane 3, two ships sailed for the Baltic Fleet, another one for the Black Sea.
Later, the Ministry of Defense decided to continue the series, signing a contract for additional floating crane 5. The first of them - SPK-53150.
The total displacement of the 02690 SPK project is 2 thousand tons, its length is 50 m, width is 22 m. The cruising range is 3,5 thousand miles, autonomy is 10 days. Crew - 22 person. Load capacity - up to 150 tons.