The company "Sukhoi" has completed the implementation of the state defense order 2018 of the year, transferring the next four Su-34 front-line bomber to the Russian Aerospace Force of the Russian Federation. The planes were transferred in pairs at the airdrome of the Novosibirsk Aviation Plant named after V.P. Chkalov 19 and 22 December, from where they went to the place of deployment, according to the blog bmpd.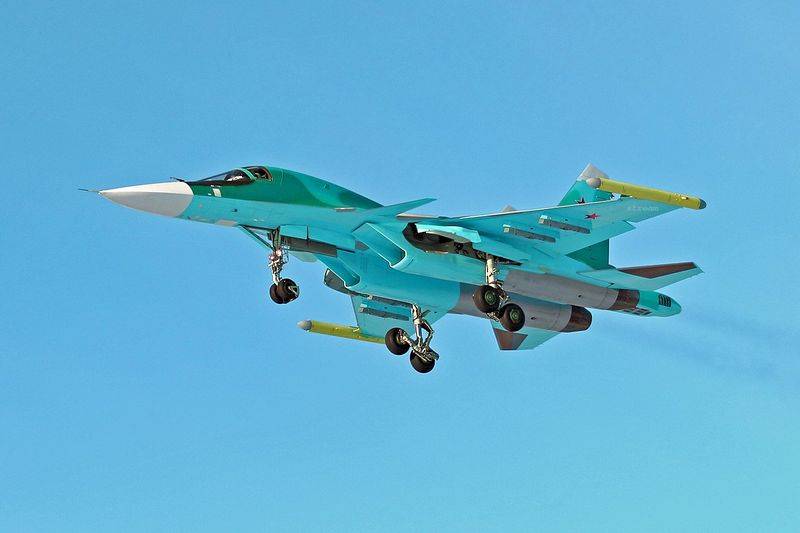 Airplanes arrived at the 2nd Guards Bomber Regiment based in the Chelyabinsk Region (Shagol airfield) 21st mixed
aviation
the division, which since the end of 2017 has received, taking into account these four new aircraft, already 18 Su-34 bombers. In total, there are three squadrons in the regiment, one of them has already completely re-equipped from Su-24M2 to Su-34, the rearmament of the second is planned to be completed by the end of next year. No information is available regarding the third squadron, but most likely its rearmament is planned for 2020. The regiment pilots who transferred to the Su-34, together with the aircraft, underwent retraining at the 4th State Center for the Training of Aviation Personnel and Military Tests of the Ministry of Defense named after V.P. Chkalov in Lipetsk.
In total, the Novosibirsk Aviation Plant under the 2012 contract of the year transferred the X-NUMX aircraft Su-84 from the 34 ordered by the Ministry of Defense to the Russian Space Forces XF. The total number of Su-92s built on all contracts, including seven prototypes and pre-production samples, has now reached 34 units.