Chinese media publish photos from the shipbuilding enterprise located in Dalian. It is noted that the Dalian Shipyard is today one of the busiest military orders in the world.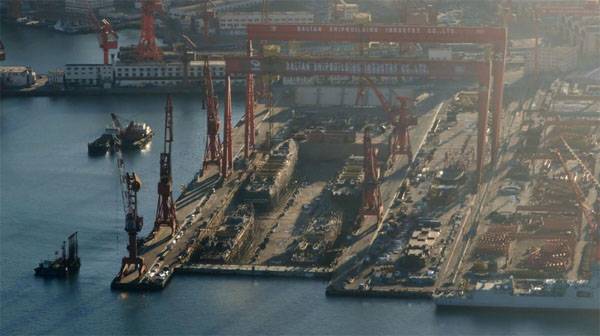 The shipyard is simultaneously building at least 4 destroyers of the Type 052 project for the Chinese Navy. We are talking about the modification of 052DG rocket destroyers, which are at different stages of construction.
Recall that earlier representatives of the management of the industrial cluster of the PRC declared the readiness of shipyards for the simultaneous construction of 10 of such destroyers, which would be an absolute record of all recent times.
The Chinese destroyers Type 052 in China itself are called an analogue of American warships with Aegis systems. The PLA Navy destroyers are equipped with two vertical launch systems with 64 cells each - for launching HQ-9B anti-aircraft missiles, as well as anti-ship and anti-submarine missiles.
Also, the Dalian shipyard is building the Chinese equivalent of the American stealth destroyer Zumwalt.
It is noted that the Chinese shipyard in question is the fastest growing in the world. Its production capacity has grown by about 64% over 10 years. This is the data of American sources.
It should be noted that at the same shipyard is conducted "refinement" of the newest Chinese aircraft carrier Type 001A and the modernization of the aircraft carrier "Liaoning".
In total, the Dalian enterprise is building and upgrading 13 warships of various modifications.