The next anti-Russian resolution was adopted by the UN General Assembly. This time we are talking about a resolution, the draft of which, just as before, was introduced by Ukraine, and which announces "violation of human rights in the occupied Crimea". The adoption of the anti-Russian resolution was the most disastrous from the point of view of the "unity of support" over the past few years.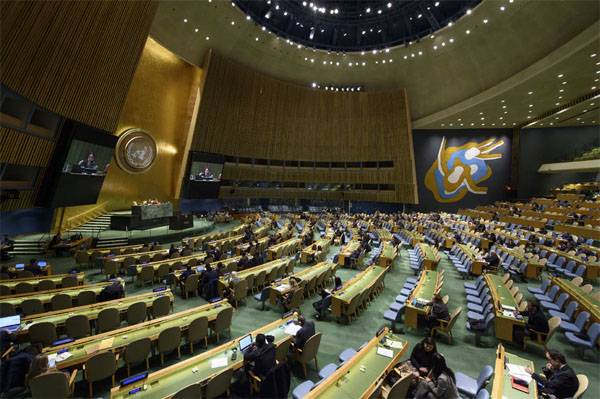 While 19 of the UN member states spoke against the resolution on the so-called "militarization" by the Russian Federation of Crimea, as well as the Black and Azov seas, then 27 delegations spoke against another resolution. In addition to Russia itself, Belarus, Syria, South Africa, India, China, Serbia, Nicaragua, Venezuela and a number of other countries voted against the Ukrainian project. As you can see, almost all the BRICS countries are on the list.
For the Ukrainian project spoke 67 delegations. This is one more than in the "militarization" project, but at the same time 5 is less than for the similar project of last year. Among those who supported the anti-Russian resolution - the United States with NATO countries, Japan, Turkey
Even in the camp of anti-Russian-minded states, they noted that they were losing supporters in the "Crimean issue".
It is also important to note that the 70 states that are members of the United Nations decided to take a neutral position on this issue and refrain.
Gennady Kuzmin, Deputy Head of the Representative Office of the Russian Federation at the UN, noted that the document prepared by the Ukrainian authorities is fake and crafty. According to the Russian diplomat, Crimea is the place where happy people of various nationalities live, including Ukrainians. Gennady Kuzmin invited all delegations to visit the peninsula and ask, for example, among the rest of the citizens of Ukraine, "whether their rights are violated".