The Chinese Air Force held night exercises in the northwest of the country. We are talking about a region where there are currently quite hard frosts - the temperature drops below 20 degrees Celsius.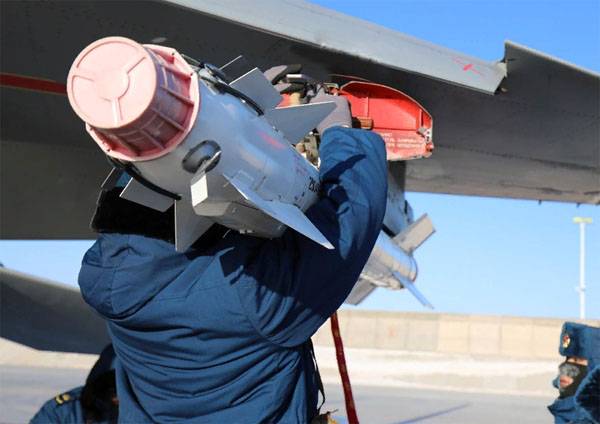 It is noted that the command set before the Chinese pilots the task of implementing air strikes against ground targets, located a few dozen kilometers from the military airfield. According to some information, we are talking about targets in the form of a cluster of forces of a conditional enemy and military equipment. Air-to-air missiles were also used. The purpose of these launches is not reported.
It is noteworthy that the bombing raids that were carried out from the aircraft of the PLA air force were carried out at night. The Chinese media say that this was a test of the effectiveness of the Chinese military
aviation
at night conditions.
Night combat training flights of Chinese aircraft using air bombs and missiles were carried out in a region that in China has recently become the main supplier of terrorists to the Middle East. Representatives of the armed groups of the so-called Eastern Turkestan joined the ranks of the ISIL pseudochaliphate (* banned in the Russian Federation) in Iraq and Syria. After the defeat of the ISIL core in these countries, the militants rushed in the direction of Central Asia - primarily to Afghanistan, which has a border with the People's Republic of China. This section of the border was often used by militants for traffic from China and back. Recently, China has significantly strengthened this area of ​​its state border.