Kurt Walker, the special representative of the US State Department for Ukraine, spoke about the anti-Russian sanctions and the possibility of their next expansion. Volker shared his thoughts on anti-Russian pressure with the Kiev newspaper
"Day"
. One of the topics that interested Ukrainian journalists is connected with earlier initiatives to disconnect Russia from SWIFT. A journalist asked Volcker if the United States is ready to use against Russia
"Crippling sanctions"
as "in relation to Iran."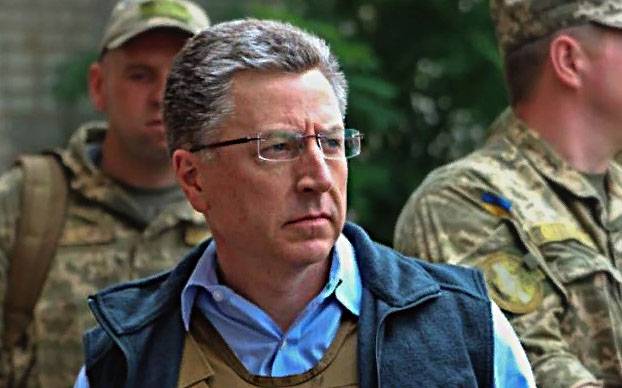 Volker, answering this question, said that he hoped for an accurate translation of English-language statements. His statement is as follows:
This (disconnecting the RF from SWIFT) will be "Nuclear option"because it will not only affect Russia, but also our allies. Therefore, such sanctions cannot be excluded, but they are exactly are not what can be used by us.
Volker clearly made it clear to Kiev that the United States is not going to disconnect Russia from the international payment system. And explained why. - For the simple reason that it will cause a serious economic blow to those who carry out trade deals with Russia - and these are hundreds of companies from Europe, North America, Southeast Asia and other continents, where the USA "found" "allies" for themselves .
Then Volker turned to an attempt to "reassure" the agitated Ukrainian journalists with streamlined statements about the need to "strengthen transatlantic unity". At the same time, the American special representative added that the United States would not "go too far ahead, since the European allies may perceive this as a confrontation between Washington and Moscow."
Walker:
But this is not so.
And all this is also against the background of statements about the unwillingness of NATO to accept Ukraine into its membership.
After such a statement, Ukrainian journalists showed an even greater bout of frustration.
Volker simply could not openly say that Washington is much more interested in acting with Ukrainian hands, and not get involved in a real confrontation with Russia using its own forces and means.
In an interview, Volker added that he intends to meet with Vladislav Surkov and discuss "all the latest events," including the incident in the Black Sea.