At 12 hours (MSK), the next, already 14, press conference of Russian President Vladimir Putin starts. The next "press conference" record has already shown itself - before the start of the action. 1702 journalist received accreditation, which is an absolute record for the whole
history
such meetings of the president with the media. For comparison: approximately 500 reporters were present at the first press conference.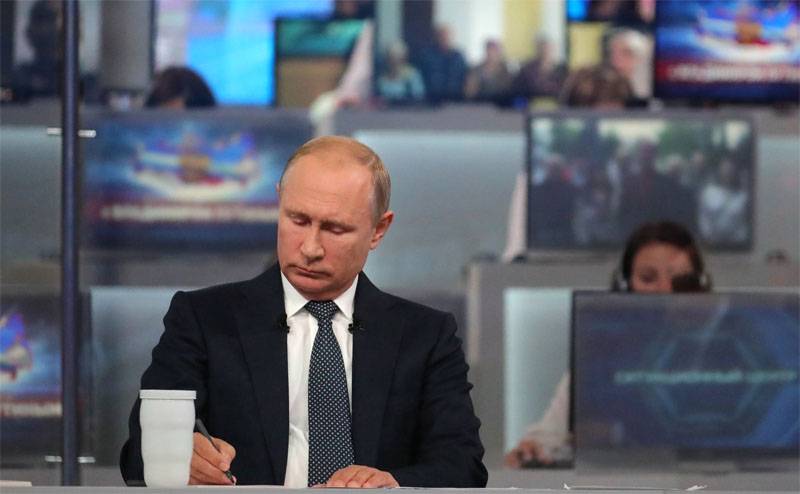 Among those journalists who accredited are all familiar faces, including Andrei Tumanov from the publication "Your six hundred square meters," and the man who made Vladimir Vyatsky kvass famous for Russia's fame.
In the conference hall, there will traditionally be foreign reporters from Germany, China, the USA, Azerbaijan, Japan, Kazakhstan, Belarus, and Ukraine.
I would like to hope that everything mentioned above will not be the main informational event related to the press conference of the head of state, and the main event is the president's answers, including very important questions.
By the way, the reporters already asked the head of the Kremlin press service what Sam would say (President Vladimir Putin was called that way) during a speech to the media at the World Trade Center. Dmitry Peskov noted that since the beginning of the week the president has been studying the documents in order to handle important data. We are talking about, among other things, data on the economic situation in Russia, traditionally - about the implementation of the program of re-equipment of the Russian army, about the indicators of trade with partners, about the consequences of existing sanctions. By these topics, the president will not pass.
TASS
quotes Peskov:
In the interim and deep into the night, the president will certainly get acquainted with the vast array of information that is prepared for him by ministers, heads of departments, and expert divisions of the presidential administration.