As the advocates of the right of either the first night or the primary accumulation of capital, completely free from the opinion of the Russian people, assert, the folklore of typical Russians is very poor and poor. What the elementary and primitive observations of modern Western researchers also confirm.
And in general, the elementary primitiveness of Western observations and the opinions of human rights defenders provides many opportunities to talk about the backwardness of the Russian people in comparison with developed Westerners.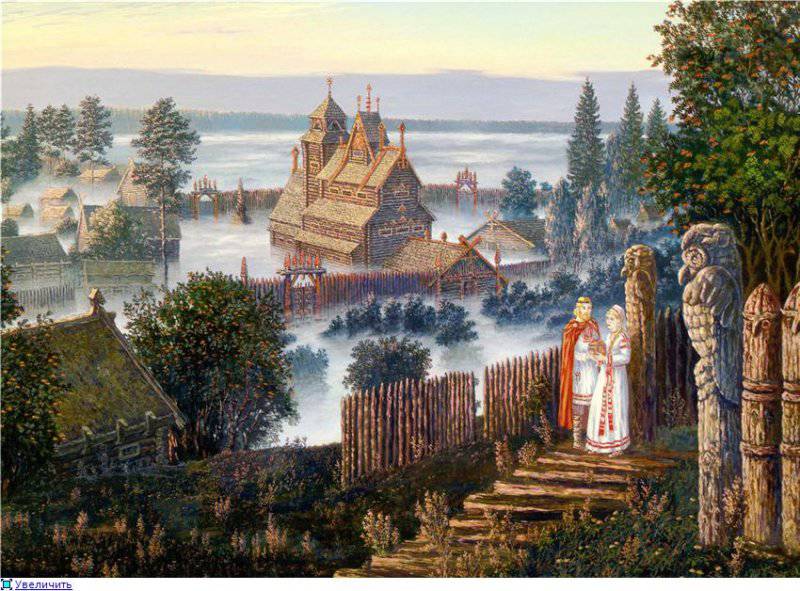 For example, humor and irony, as is known, are an accurate and subtle indicator of the mental development of mankind. As the free world is reported to the enlightened world community, that is, no one financially and morally independent Russian liberals who want a highly spiritual Western life, Russia has never been a spiritual country, unlike the North Atlantic civilization.
A vivid example of the lack of spirituality of Russians, in contrast to the Western world, is the complete lack of a developed sense of humor among Russians.
For example, a civilized North American resident, for a very, very funny joke that his mother's back is the size of a steam locomotive boiler, will first tolerantly laugh along with all the same civilized decent Americans, and only then will she try to find out, but what exactly is steam locomotive boiler.
A typical Russian responds to an innocent joke about his mother completely inadequately, usually snatching a felt boot tucked behind its bosom or ankle, a well-cleaned and smeared Kalashnikov machine gun with a ribbon of two hundred rounds, which does not stick, because there is nothing to jam in it. Civilized westerners should always be aware of this and, with a sudden desire for such a joke, try to reveal the havalnik as rarely as possible (the Russian definition of the orifice of the western highly spiritual inhabitants according to its main functional feature).
History
Western science studies of a Russian fairy tale about a Russian soldier who taught a generous Western European mistress to cook soldier soup made from an ax, serves as a very good example of the lack of humor among Russians. And do not blame the author for not knowing the subtleties and replacing the porridge soup. Because porridge is just the same soup, just not taken off the stove in time ...
Since the Russian ax is a traditional Russian instrument, the presence of an undemocratic Russian soldier does not cause any doubt among Western researchers. There is also no doubt the repeated appearance of the Russian army in the places of residence of generous European hostesses. And because Western folklore studies may well rely on this source of information about the event being described and forgotten.
With the most careful study of anything funny in a fairy tale is not found. However, remembering that the Russians have "a fairy tale a lie, but a hint in it", democratic scientists came up with amazing observations.
In the course of repeated scientific experiments, Western scientists completely repeated the recipe for cooking soup from the Russian ax with all the additions and spices mentioned in the source.
That confirmed the reality of this precedent.
The edibility, satiety and sanitary norms of the resulting dish turned out to be 100%. At the same time, in terms of the effectiveness of the action on the body of a soldier, peasant and worker, surpassing hamburgers and coca-cola several times.
A short-term change in the psychological state of recipients from among Western soldiers, workers and peasants can be considered a negative and side effect. After saturation, they suddenly became sullen and unsociable, suddenly even turning to Russian swearing and saying the following:
- What are you, you bastards, fed us before? ..
Further studies were temporarily stopped due to the sudden breakdown of surveillance cameras, and those recorded in the journal were interrupted in writing due to loss of consciousness by researchers and laboratory assistants, as a result of the powerful and disproportionate verbal influence of the Russian mat from the analyst's mouth.
The subject's return to normal condition was slow and difficult under the supervision of a group of psychiatrists reinforced by a special forces platoon. While the hunger recipient did not start eating hamburgers again, drinking Coca-Cola. After which he was eliminated from the experiment forever for technical reasons.
Observations of scientists prove that Russian food from an ax turns a civilized Westerner into a typical Russian savage. And because Western scientists do not recommend democratic people to try to eat meat borscht, soups, cabbage soup, cereals, cakes, etc. from Russian cuisine. And even more to drink kvass, sbiten, honey, mash and, especially, birch sap.
Otherwise, mass infection with wildness and Russian character at the genetic level is possible.
Apparently, Russian axes are produced using secret technology, the principle of which has not yet been clarified by modern democratic science. Western intelligence agencies have been given detailed instructions on how to search for this important, undeniable military value, secret.
The difference between cooking an ax with an ax and without an ax is only changing tastes and cooking time. In the second case, the soldier's soup gives wood and cooks much longer.
But what do Russians find so funny in such a fairy tale?
It still remains a mystery, both for the civilized western man in the street, and for the whole of Western science in general. After all, the heroes of the fairy tale for the whole time of the action never stumbled, did not scald with boiling water, did not drop an apple pie or cake into each other's boiler or each other, and the civilized democratic hostess did not even suddenly get naked to see the Russian's amazement and laugh at him !
In general, she behaved almost like some kind of uncivilized Russian woman.
What is the only psychological discrepancy in the plot. Because, for example, any of the civilized Western soldiers would not have missed the opportunity, and certainly would have, at first, dealt with the mistress, having proved his right as a true soldier for any subsequent actions.
As it is always and everywhere it is usually done by real Western soldiers.
Such a psychological discrepancy between the plot of the proposed situation explains what the wild Russians meant by writing a similar fairy tale. Thus, they seem to hint to enlightened readers that the civilized Western females and mistresses of the Russian soldier are not as interesting as his uncivilized Russian soup made from an ax.
And this is simply humiliating for the entire Western highly spiritual community.
However, there is a reason for all Western society to discuss the precedent at the highest international level and to oblige the future of all Western housewives when visiting them by Russian soldiers to look in such a way that typical Russians would not even allow themselves to think about cooking soup and anything else. That is why it is necessary, without letting the Russian soldier recover from his beautiful appearance, to feed him quickly and tasty, to drink generously and to sleep gently to bed. Preferably with you. At the same time from time to time uttering a specially prepared phrase in Russian: "Darling, dear, unique". No matter how many Russian soldiers and how long it will have to say.
It was then that the Western intelligence services will have a good opportunity to seize one of the Russian soldier's axes and, finally, completely unravel his military secret.
As for the fairy tale, by her wild Russians simply once again proved to all civilized Western people that their Russian sense of humor is primitive, and, perhaps, completely absent.
That is why the most ironic and sublime Hollywood directors, perfectly filming great comedies about civilized fat men, at a family table or as a guest who know how to play Bach melodiously together through a farther, which is very, very funny, still cannot produce a single film based on Russian folk fairy tales.
Well, not enough in Russian fairy tales of irony.
If we compare the ancient legends of wild Russians with the civilized legends of the West, then it becomes immediately clear even to the most competent student from Texas that they have a cardinal difference in the most important thing.
In a leadership role.
That is, all civilized Western legends, epos and tales enlightened relate to the most important themes of the struggle for power and the right of the first night, or the recognition of the illegally born bastards afterwards for the subsequent mastery of the throne. As well as the cultural and civilized murder of surreptitiously his brothers, sisters, fellow-soldiers and accomplices for
arms
in order to achieve their highly noble goals.
Well, there, to take revenge on someone, or just to mock.
Thereby, as if tactfully emphasizing one's own culture and civilization. With the possibility and in the subsequent enlightened spit from the throne to the others, receiving from this high spiritual pleasure.
As befits a civilized Western society.
Russian legends, on the other hand, show a completely primitive psychology of wild Russian warriors and fools, who deal only with those who are friends, save each other or someone who is absolutely insignificant and does not even have any capital. Then some kind of people there, then a simple maiden, then wild Russian cities and lands, then cubs or hares.
At the same time, forgetting about a comfortable dream, a civilized rest in the form of well-recorded peasant women or pluralistic robbery, and abundant food at the expense of forced owners.
Do not you savages?
Of course, even here it doesn't do without observing typical Russian cruelty as a result of absolute lack of understanding by typical Russians of high spiritual thoughts and aspirations of the West.
For example, the king Kashchei of Russian fairy tales and epics, which withers over gold, in its psychological and external appearance is very reminiscent of a civilized western knight or king.
He is also dressed in armor, dried up with a high spiritual struggle for power over Russian or thirtieth lands, and has the same indestructible interest in gold, jewels, and also, distinctively, in Russian wives and girls. Moreover, his high-tech way of eternal life through the secret storage of his own death in the egg is very interesting from the point of view of technical achievements.
If all Western knights in the deep past could also leave houses with similar eggs at home, they wouldn't have to be deadly afraid of Russian combat kicks in the crotch, a little later systematized by Oshchepkov and Kharlampiev, typical Russian fighting style.
Although, judging by the not so long history of the mid-twentieth century, one of the descendants of the Crusaders still managed, like Kashchei, to come to Russian lands with one egg, leaving the second in a place still unknown to anyone.
However, to the great and deeply secret disappointment and regret of the entire civilized West, this did not save him or his army from the cruel endgame in the form of a harsh Russian mat and the next mass Russian foreign excursion to the places of civilized residence of the descendants of knights-crusaders.
From this point of view, Western intelligence agencies have already been instructed to seriously study Russian fairy tales with the participation of Kashchei Immortal, in order to determine the abilities of real Western soldiers and their military commanders to hide their vital eggs in western vaults and banks before another campaign to the east.
For the purpose of their long-term or, more likely, eternal preservation.
The primitiveness of ancient Russian fairy tales still strongly affects even the modern world of art and Russian culture.
Russians have no comic book industry, which speaks of Russia's backwardness.
That highly developed West has created, thanks to its advancement, such stunning images of heroes, such as Superman. Who alone can unleash the planet against the passage of time and return the past. So that, returning to this past, now to show this cruel Russian, that in fact he does not sew at all. And it may well, instead of fleeing and hiding from them in a cave, to call for help law enforcement agencies and human rights defenders in the form of Kashcheev and knights.
In order to avoid a humanitarian catastrophe.
And only after that boldly run away from the Russian hordes and hide in a cave with a sense of deep duty.
Or, for example, Spider-Man. One that has cobwebs that are out of the arms and legs, capable of keeping the truck almost suspended. Although entomologists studying arachnids, like observant young children, are well aware that spiders have spider webs that stand out from the abdomen and are the result of complex processing of food by special glands.
Although this, of course, little things.
After all, the most important thing is that it is impossible to become a real Spider-Man until you sleep in an intimate sense with the female spider. And here it is better not to sleep at all, and to be able to run faster than Superman. Since after sex you can immediately be eaten by a mistress for the immediate production of a cocoon for future heirs.
What exquisite and, one can say, erotic ideas of fairy tales and comics from a civilized Western society!
And in the wild Russians, only all some warriors, soldiers, princes, ivani fools, Vasilisa the Wise, Helen the Beautiful, Mary the Mistresses, self-dressing tablecloths, fast walkers and carpets-planes.
How can such ordinary characters surprise or delight?
Is that give a professional name for airplanes.
Yes, instill a stupid courage against Kascheev and robbers.
And to teach the specifics of the relationship in the military team.
That's all!
But deep western delight and admiration without cobwebs, costumes and masks do not cause.
What proves the age-old backwardness of Russian fairy tales and the primitiveness of their ideas about the world. And this, in turn, affects the education of wild Russian cubs and shapes their future. In the professional opinion of the entire civilized West, a completely hopeless Russian future. About the same as in the recent past of the Red Empire. Without iPods, Internet and Coke.
How is it in the modern Western highly spiritual society!
For example, medical poisoners.
Those who grew out of the legacy of the court magician and sorcerer Merlin and his like heroes. And not from any there, as his, people.
A doctor who is able to make magnificent poisons, soaking dresses, food or books with them, is a typical, widespread and deeply incorporated into Western culture character of developed Europe of past centuries. However, he still has not lost its relevance in the peaceful West. Together with all Western culture and medicine, having received good practice in Buchenwald, Guantanama and Auschwitz, this type of doctor has spread widely throughout the world, bringing civilized consequences to the inhabitants of the planet. And sometimes, even penetrating into wild Russia, albeit with some time delay in a couple of centuries.
That only underlines the Russian backwardness.
And Europe is all developed and developed, and did not stand on the spot. In the end, democratically inventing a mass poisoning of residents and soldiers through chemical warfare agents and even starting to supply these gases, as is customary in the West, to their best friends for solving urgent national economic problems.
Saddam Hussein could certainly confirm.
But for some reason no longer wants.
Perhaps, British Petroleum will confirm.
However, both children and folklorists, and so everything is clear.
Well, the species of argument of the West has developed a long time, partially giving it to the Japanese. Because biological arguments Europe knew and spread, as already mentioned, since the days of the Crusades. For example, in the form of rotting corpses of rats through a fortress wall or a neighbor's fence. Or in the face of highly spiritual knight-crusaders, gently loving fresh pigs.
But Russia has never been a leader in this development, and it will not be.
Because she was always wild and not civilized by anyone.
So, judging by the folklore observations, modern Russia has no, even a distant, bright future, similar to the Western one.
Because there is no wild Russian folklore in it, which forms secret, deeply affecting the future development of entire generations, priorities and tastes, nor the charming Count Dracula with the darkness of good civilized vampires, neither suffering werewolves, in epaulets or without, nor heroes— cannibals, no tales of cosmic alien monsters.
In general, no cultural future.
Although, judging by the inherent typical Russian cruelty and aggressiveness, it can be assumed that even if something like this ever happened to them, they aggressively and cruelly destroyed even the memory of such a bright past. Just as once, apparently, wildly destroyed dinosaurs and mammoths.
Just because of their own cruelty and aggressiveness.
What plunges the spiritual and cultural West into yet another deep stress relief through warm Russian vodka and small civilized sips ...