The Chinese aircraft manufacturing corporation Shenyang Aircraft presented some additional information about the newest fighter aircraft FC-31, which is also known as the Krechet J-31. Photos including.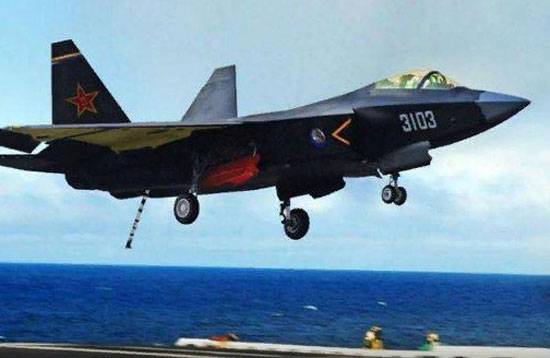 This is the fifth generation fighter - the second program of the PRC, along with the J-20.
Submitted by the corporation photos say that Shenyang Aircraft is engaged in the creation of J-31 in deck modification. These aircraft, according to some sources, should be the basis of the wing of the newest Chinese aircraft carrier "Type 001A", which is planned as part of the PLA Navy to go to sea in the year 2019. Earlier, the Chinese press published material stating that the "Type 001A" along with another PLA Navy aircraft carrier - "Liaoning" - could go to sea before the end of this year. Both are in the port of Dalian.
The presented FC-31 (J-31) has a brake hook and a folding wing, which, for obvious reasons, is typical of deck fighters.
Earlier in the Chinese media it was reported that at the moment only one version of J-31 has been produced.
Chinese experts, who evaluated the J-31 at the Air Expo, claim that the PRC may well start production of these combat vehicles for export deliveries. A separate question: if Shenyang Aircraft really plans to negotiate the export of the deck versions of J-31, then who can make such deliveries?
If we are talking about Russia, then all this is extremely doubtful considering that at the moment the Russian Navy is the only aircraft carrier (the aircraft carrier cruiser Admiral Kuznetsov), and that one is currently under repair. The appearance of new aircraft carriers is not yet expected. If we are talking about NATO countries with aircraft carriers
fleet
then even less likely. There is the complete hegemony of the US defense industry. Thus, it can be stated that the Chinese-made carrier-based fighter planes at the moment can be focused mainly on the own needs of the PLA Navy.