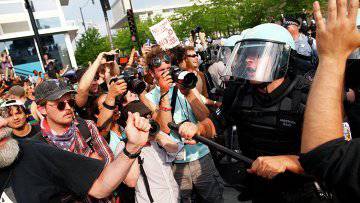 The Russian Ministry of Foreign Affairs is concerned about the fate of American and Canadian protesters who came out to protest in Chicago and Montreal. Thus, the Ministry of Foreign Affairs of the Russian Federation published a statement in which it expressed concern about the brutality of the measures taken against the participants of the "Capture Chicago" actions and student protests in Montreal.
According to the Russian Foreign Ministry Commissioner for Human Rights, Democracy and the Rule of Law Konstantin Dolgov, the US and Canadian police, who disperse the mentioned protest demonstrations, use excessive force that is disproportionate to the peaceful nature of these street actions. Dolgov stressed that Russian diplomats are seriously concerned about the use of acoustic guns and other special equipment against the rally of Americans and Canadians.
Shares in the "Capture ..." series have been held in the US since September 2011. The protesters demand an increase in taxes for the richest citizens of the country, as well as the cessation of the phenomenon called "financial terrorism".