The Board of Directors of the Central Bank of the Russian Federation made a very unexpected decision on Friday. The key rate was raised again: by another 0,25 percent, to 7,75 percent per annum. Almost all analysts, analysts, all domestic bankers had no doubt that they would not raise rates now. Moreover, it seemed to many that they would lower it. If not in December, then certainly on the February Board of Directors of the Central Bank. And thus now, in anticipation of relative financial stability and growing revenues to the treasury, they will resume the process of lowering bank rates, that is, the Bank of Russia will finally, after a four-year pause, soften monetary policy, actually stimulating both the banking sector and the real economy .
In the Central Bank of the Russian Federation
know how and love
It is beautiful to give your own, to put it mildly, not entirely logical, and sometimes very unpopular decisions. And it is not so important that the practice later refutes these explanations. For example, when the rate was raised to 7,5 percent, the head of the Central Bank Elvira Nabiullina tried to convince everyone that after that the mortgage rates will be surely reduced. They did not fall - they grew up, putting the entire construction industry on the brink of crisis.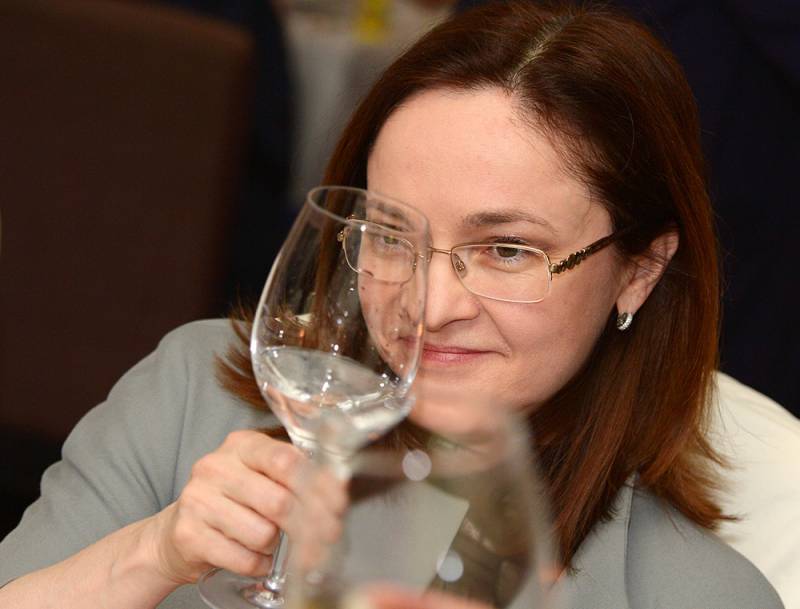 However, the industry will somehow get out of it - there will be, for example, a bridge to Sakhalin, which few need to actually build, but people are sorry. They face a far more terrible revision of the terms of mortgage contracts, after which many will simply have to part with the dream of new apartments. I don't even want to talk about what the mortgage holders will haunt one more increase in the Central Bank's rate.
In the Central Bank of the Russian Federation
know how and love
justify the decision to change or maintain the key rate at the current level, linking it, this rate, to the consumer price index. Hence the conclusion: they lied to us for a long time and selflessly about the fact that inflation in Russia has greatly decreased. The rate is raised a second time in just a few months, and this is certainly a direct evidence of rising prices and, accordingly, an increase in inflation.
However, now speaking heads from the Central Bank of the Russian Federation are not fooling us and they recognize that inflation in November accelerated to 3,8% on an annualized basis. It is also recognized that by the end of 2018, it may diverge from the forecast in 4% and in reality range from 3,9% to 4,2% for the entire year. But please excuse me, because it is almost twice lower than the key rate. And no one in the Central Bank is even trying to explain why we need such a solid margin, that is, such a gap in percent. Explanations from the side, when analysts say about the need to return to buying currency again, somehow do not convince us that Russia really needs such expensive money.
An attempt by the Central Bank to further complicate access to a monetary resource is most likely connected not so much with currency problems, as with the willingness of many already to raise prices. Without waiting for the increase in VAT, growth of utility tariffs and even some New Year gifts, including from the Central Bank. On the eve of the New Year holidays, paying attention to the updated price tags in Russia is somehow not accepted, so why not spread straws ...
The Central Bank itself, playing with stakes like a roulette, also actually lays the straw on itself, since there, judging even by external signs, they do not really believe in low inflation in the 2019 year. After all, the damned sanctions, the risk of falling oil prices and the same increase in VAT have to be added to the increase in utility tariffs, and problems with the funds of pension or insurance funds, which will be much more still very, very soon.
It seems that such a strange construction as "expensive rubles and expensive gasoline" in Russia can be stable only under the most severe pressure from the state. With regard to gasoline, the pressure, as you know, worked, but you can be afraid that it worked only until spring. But in that it will work in respect of rubles, there are very big doubts. And the sluggish reaction of the currency market, where the dollar rose quite a bit on Friday, and the euro even fell, should not mislead anyone. Everything will start on Monday, and then a lot will become clear. Well, the trend for months ahead can be determined after the Central Bank actually resumes the purchase of foreign exchange earnings.
So, money in Russia is becoming more inaccessible and more expensive, while inflation has been replaced by the effects of inflation or demand that was characteristic of earlier, in obese 2000, when the product has sometimes not kept up with growing consumer demand, inflation of expectations comes. Experts prefer to call it inflation costs. Both manufacturers and retailers (sellers), many of the costs in our time are growing compared with the consumer sector, as it were in advance. Although they are caused either by fluctuations in exchange rates and a fall in oil prices, or by rental rates, as well as utilities and other services.
As a result, banks, deprived of access to cheap resources from the West, and now in fact also domestically, compensate for all overpriced rates, and enterprises - by increasing the selling prices for their products. But instead of supporting the bankers and, as a result, the enterprises, helping them to reduce costs through a cheap loan, the Central Bank makes the loan disproportionately expensive.
In the Central Bank of the Russian Federation
know how and love
correctly use theses from the government, to which the Central Bank, in fact, is not included in the law. One of them is about a direct link between inflation and economic growth. At one time, being a privatization deputy prime minister, a well-known character deftly used high inflation to form a budget nest egg, which could then be scattered over his own without asking permission from either his patron or the State Duma or the president himself.
At that time, enterprises simply did not keep up with their prices following tariffs and exchange rates, so Chubais used it. But his "stash", even with the money from privatization, is generally scanty, still not enough to save the country from default. In principle, in developing economies, and in Russia, we hope, it is developing, and inflation can be released if this can really stimulate more substantial economic growth.
However, it seems that our economy gurus are more in favor of crises that can be heroically overcome, or something like stagnation, and they don't want to allow any relief or changes in government policy. Or can not. As economist Valentin Katasonov, well-known for his anti-liberal views, noted, they will "adhere to the course until the last minister, paying no attention to any consequences."
In the USA and Europe, the practice of quantitative easing, when the cost of a centralized loan was reduced almost to zero, has worked for many years, and in a number of areas it is still working. However, even with almost zero inflation, neither in the USA nor in the European Union there is any significant economic growth. But we have even less growth - Russia has become special again, and with inflation, which should help, we are fighting the exact opposite, making money extremely expensive.