If we consider the state of our army, weapons and military equipment in the context of a big war, that is, a war with a numerous, well-armed and experienced adversary, then it soon turns out that we are not ready for very many sides of this hypothetical war.
I would not say that this is a favorite topic for readers of military analytics. I judge this from the experience of my previous articles, which touched on a similar issue (for example, will we have enough cartridges for a rifle
weapons
or what is best to fight in the swamps and impassable mud). Not everyone likes reasoning like that. However, military issues are matters that are far from personal taste. In my opinion, it is better to be unpleasant for readers than to be defeated. In addition, more recently began to write on this topic.
Here is another point in which the Russian army is not ready for a big war - fighting over rivers. This refers not to small rivers, but to large water arteries, such as the Dnieper, Don, Volga, and so on. Of the most likely theaters, of course, the first place is currently occupied by the Dnieper and Don, especially the first. Regarding current events, I want to emphasize that for all possible political twists, we have the right to theoretically examine this theater of operations, study the conditions for conducting hostilities on it, raise questions and look for answers to them.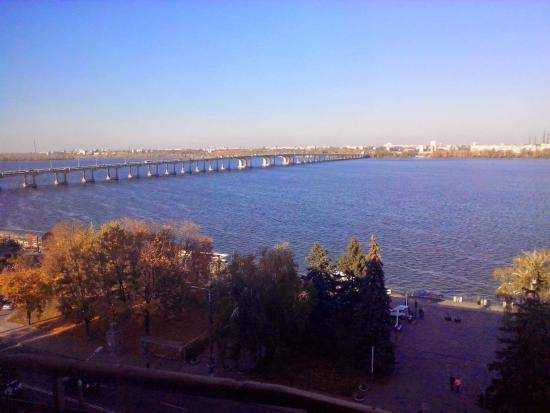 Dnieper is not a small-caliber river. This is a view of the river near Dnepropetrovsk (now the Dnieper), the width of the river within the city ranges from 700 to 3500 meters
Well, if not useful. But for me personally, a long study of the experience of the Second World War convinced me that it was necessary to consider even the most incredible options so that later I would not be completely unprepared for them. For the mistakes of theorists, then, in the event of war, will be generously paid in blood.
So, large rivers. Here are the most common tasks associated with rivers, judging by the experience of the Second World War and partly the war in Vietnam.
Forcing (in two versions: in offensive and retreating), transport and fire support of the ferried parts, retention and expansion of the bridgehead, transfer of large units across the river with guidance of crossings, fighting on the fairway (mainly a breakthrough along the river with the landing and support of the landing force) , the use of the river to bypass, reach and encircle the enemy (mainly to prohibit him from leaving the river).
Now the Russian army is most prepared only for crossings. Yes, pontoon crossings are conducted. But they are largely conditional and are carried out with little or no consideration for the resistance of the enemy or with imitation of this resistance.
Here is an example of such an imitation in pontoon crossings. Do you really believe that everything will be like that?
A review of the available equipment (floating conveyors PTS-2, PTS-3 and the latest PTS-4, self-propelled ferries PMM-2, PMM-2M and PDP) quite clearly shows that they are all specialized for the transport of heavy equipment:
tanks
, automobiles, and also specialized in the motorization of ferries and the mechanization of building temporary bridges, as well as for the transport of heavy equipment. For infantry there are floating armored personnel carriers and infantry fighting vehicles. Previously, there was also a very good amphibious tank PT-76, which pretty well fought and is now still in service with a number of countries.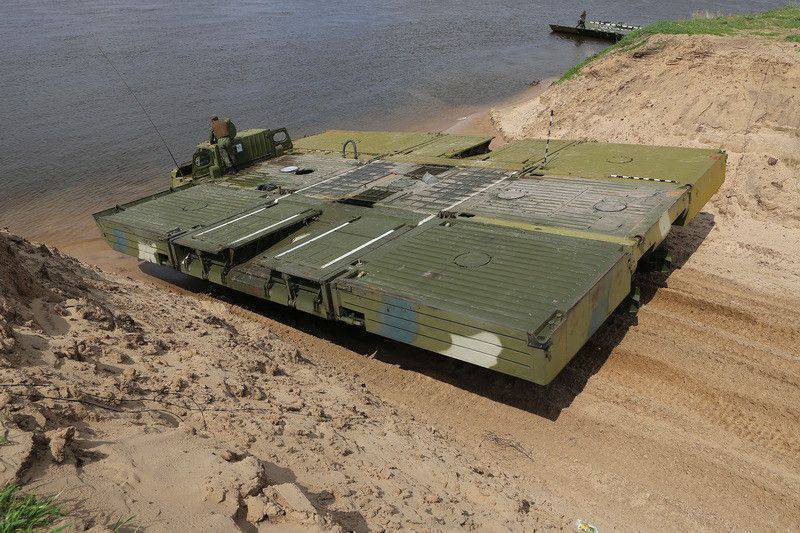 Self-propelled ferry PMM-2M - a very good thing. But, firstly, specialized for the transport of equipment, and not cargo (for example, ammunition) or people; secondly, with low seaworthiness
It seems to be quite enough if we keep in mind only the task of forcing the river in conditions of a rather weak resistance of the enemy and possibly the most rapid transfer of troops with heavy equipment across the river.
In the context of a big war with an experienced adversary, who perfectly understands the significance of a large river as an important milestone, such greenhouse conditions are unlikely to be for crossing. If you put yourself in the place of the enemy, then what can be opposed to such a mechanized crossing? Firstly,
aviation
blows. Just a few F-35Bs with guided bombs and other high-precision weapons are quite able to disrupt such a crossing. Helicopters and attack drones will perform well in this role, especially if the enemy has a high coast with hills. Secondly, it is possible to clarify the point at which self-propelled ferries with tanks approach the shore, wait until they swim 50-100 meters to the shore, and cover this place in one gulp from the MLRS. Thirdly, even partisans, if they have enough mortars and RPGs, will be able to repel an attempt to ferry ferries with tanks. All this applies not only to ferries, but also to floating armored personnel carriers and infantry fighting vehicles.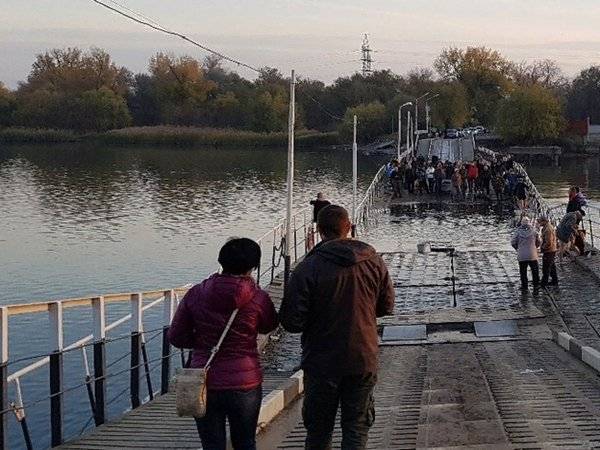 Do not exaggerate the reliability of pontoon bridges. The pontoon bridge and without the help of the enemy is quite able to sink, burst or swim with the flow. The salute of the MLRS on the pontoon bridge will undoubtedly lead to its destruction. The combination of the MLRS and reconnaissance drone makes pontoon crossings extremely vulnerable
That is why, most likely, a crossing that looks great on the exercises in the conditions of a real and big war will simply not work. The situation with the forcing of a large river will return to the typical situation of the times of the Great Patriotic War. It will be necessary first of all to cross, with a relatively small infantry detachment, if possible covertly, to capture a bridgehead of sufficient width and depth to secure the crossing point, and only after that to launch self-propelled ferries and build a pontoon bridge. Before aiming the crossing on the bridgehead, there will be stubborn battles in which it will be necessary to transfer reinforcements, deliver ammunition and food across the river, take out the wounded. Here for this transport work, very complex and dangerous, there is nothing suitable available.
The armored personnel carriers and infantry fighting vehicles are not very suitable for the transport role, besides it is not advisable to use armored vehicles as an improvised river vessel. Each unit of armored vehicles, that is, each cannon and machine gun, is very valuable on the bridgehead, and their withdrawal from battle will significantly weaken the forces engaged in holding and expanding the bridgehead.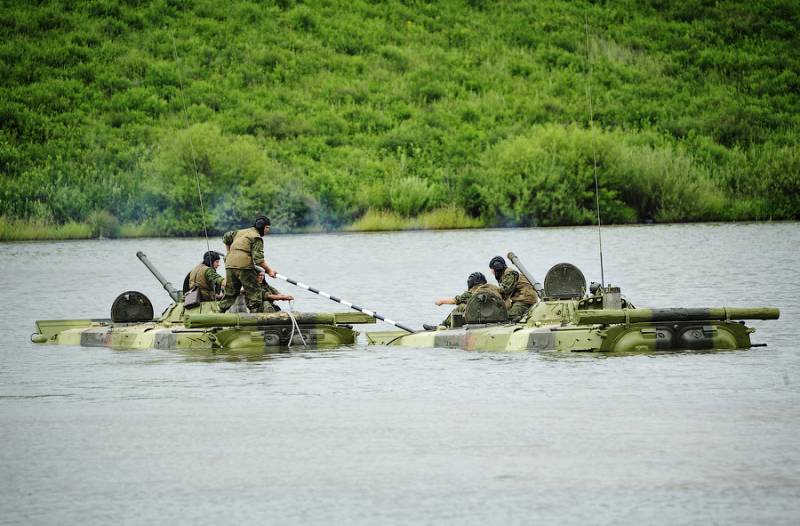 BMP afloat. Lack of transportation of people, lack of cargo space and rather poor seaworthiness; the wave will be a serious obstacle for the BMP
Even when self-propelled ferries operate and a pontoon bridge is put in, there is still a great need for auxiliary vehicles, since the capacity of any temporary ferry is very limited and the whole traffic cannot accommodate. But the more power and technology is concentrated on the bridgehead, the greater the volume of cargo they need to deliver and as soon as possible. Finally, the battle is also being fought, the enemy will undoubtedly try to destroy the pontoon bridge with artillery fire or air raids. If he succeeded, then here without auxiliary vehicles, troops on the bridgehead can be defeated.
We need a full-fledged riverboat, rather fast, fairly seaworthy (able to swim at high waves and go to the mouths of rivers, estuaries and act along the sea coast), well-armed enough and at the same time suitable for transport operations.
Among the prototypes of a possible solution, I would put in the first place one very ingenious fascist German idea - a Siebelfähre barge. It was designed by the aviation engineer Fritz Siebel for a landing campaign in Britain. This vessel was built of two bridge pontoons connected by steel beams to a catamaran. On top of the beams was built platform for placing tools or cargo, as well as a superstructure for the bridge. The barge was equipped with four engines. Despite its simplicity, the barge had good characteristics: displacement up to 170 tons, carrying capacity up to 100 tons, speed of 11 knots (20 km / h) and cruising range up to 300 nautical miles. Four Flak 8.8 cm could be installed on it, which turned it into a powerful floating battery, comparable in power to a destroyer. Zibel-type barge was disassembled and could be transported by truck or rail, and then assembled and lowered into the water.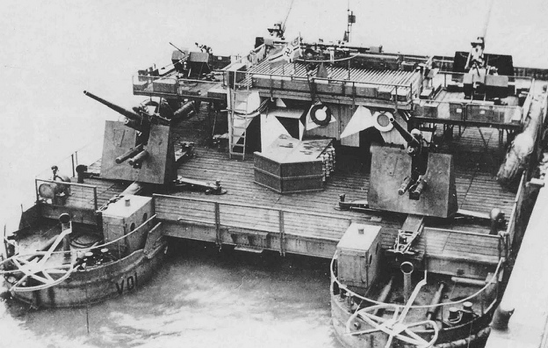 Siebel-type barge with two 88-mm anti-aircraft guns - general view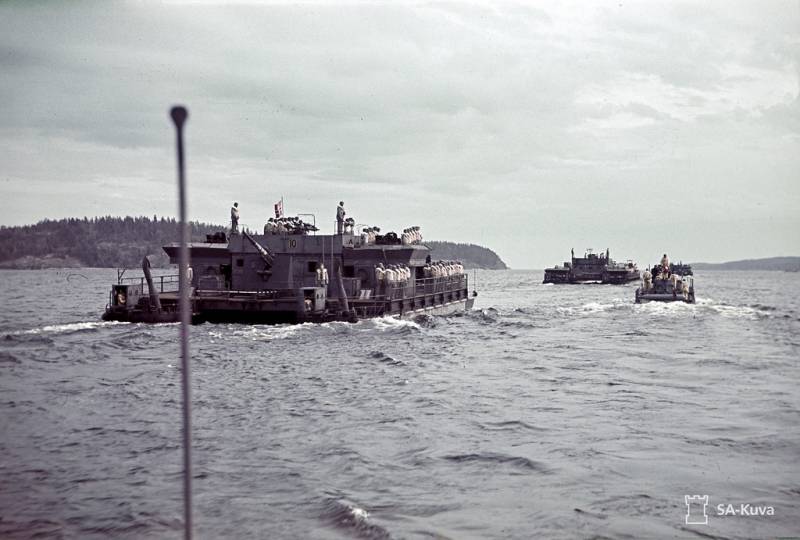 Zibel-type barges on Lake Ladoga
The second very good idea is already domestic: Ladoga tender. Such tenders were built for shipping on Ladoga during the Siege of Leningrad. It was the simplest self-propelled barge 10,5 meter long, 3,6 meter wide, equipped with an engine from ZIS-5. Its speed was 5 nodes (9 km / h), but after a small upgrade the speed increased to 12 nodes (22,2 km / h). Management was tiller, sometimes set the steering wheel. Navigation equipment was limited to boat compass. Tenders were sometimes armed with a light or heavy machine gun, but its main advantage was a roomy hold around the cube 30. meters, containing 12-15 tons of cargo and up to 75 people. It was very simple in design, it was assembled from sections, and there was a case when such a tender was built in just three days. It was something like an iron boat, which nevertheless had phenomenal seaworthiness and successfully sailed in the most stormy and dangerous part of Ladoga, including in difficult ice conditions. Such ships participated in the Battle of Stalingrad and in the attack on the Crimea.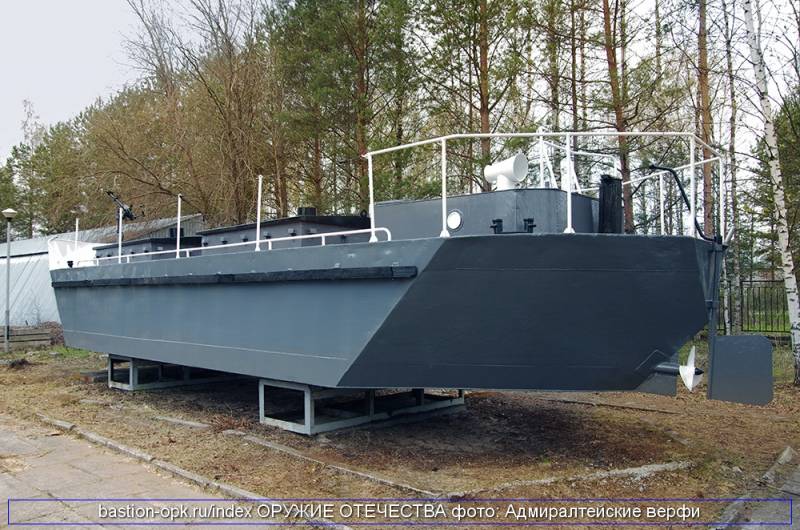 This is how the tender looked like - the iron boat of the Second World War. Such inconspicuous ships took 250 from Leningrad thousands of people and brought thousands of tons of food and ammunition to the city of 100.
In a country that has a huge number of rivers, the weakness of river forces and the almost complete absence of river warships are amazingly surprising. But with this we need to do something. In view of our weakness in general, in order to produce something, I would suggest starting with the simplest and most useful - with a tender.
First, the construction of such an iron boat will cope not only with any shipbuilding or ship repair plant, but generally with any workshop in which you can cut the metal and weld the hull of this self-propelled barge. Including improvised workshop. 118 Ladoga tenders were built in this way, in a hastily created workshop on the unequipped shore of Lake Ladoga.
Secondly, to equip the tender, you can take the engine more powerful. If the original model had an 73 horsepower engine, then the now widely used KAMAZ-740.63-400 diesel engine has an 400 horsepower.
Thirdly, for loading and unloading goods, it is advisable to install a hydraulic manipulator of the same types that are now widely used to equip trucks.
Fourth, the armament of the tender. It is best to take large-caliber machine guns "cliff" or "cord". Although the tender is generally intended for the carriage of goods, it can be used for amphibious operations in which you may need to fire at targets ashore.
In general, a relatively small river ship is produced that can be used on almost any river and on almost any lake (except for the smallest and with marshy shores), where there is enough depth for it and there is a place for a truck to transport an iron boat overland. The sides of the tender are quite high, which provides it with good seaworthiness and allows its use in the coastal waters of the Azov, Black and Baltic Seas. In general, the Black and Baltic Seas are the most optimal sea area for ships of this type. An important advantage of the tender over special river ships of greater displacement is that the tender does not need bases and backwaters equipped for wintering. It is enough to pull the winch ashore and cover in a hangar or just under a canvas canopy.
Finally, a tender can (and in my opinion) should also have civilian use - as a small but omnipresent vessel, suitable for cargo transportation on rivers, lakes, for road operations. Tenders can be produced in large series (immediately with a turret for a machine gun) and have on all the rivers so that in the event of war they can be mobilized into the army.