The Congressional Budget Office conducted a study regarding the estimated cost of a project to create a promising aviation complex. This is a project called "Penetrating
aviation
"(Penetrating Counter-Air -" PCA "). The material, voiced by representatives of the congressional research team, stated that when all the parameters requested by the US Air Force are taken into account, the total cost of the latest aircraft may turn out to be sky-high.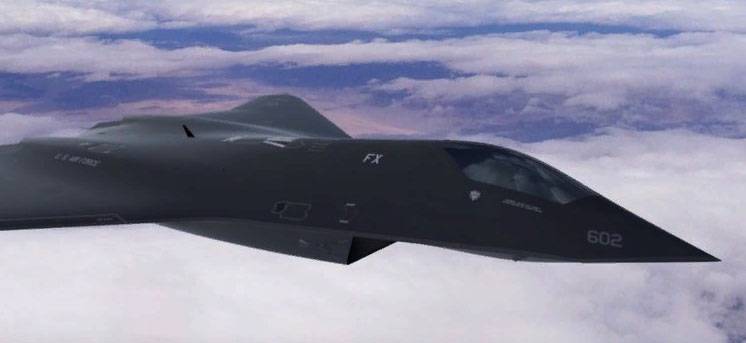 The report says that each PCA aircraft will cost approximately 300 million dollars.
From the material:
This is more than three times the price of the F-35, whose price today is approximately 94 million dollars.
It was noted that to cover the huge costs of a promising project, it is necessary to reduce costs and large volumes of production.
In fact, this suggests that in the United States are ready to continue the practice of frankly imposing on "partners" the procurement of their aircraft. Explicit repetition with the F-35, which a number of countries actually pledged to buy from the United States before the fifth generation aircraft went into the series, and until the technological deficiencies were eliminated.
The PCA program is designed for a period up to 2050 year.
In the material
Defense News
it is said that to replace existing F-15C / D and F-22, the United States Air Force will need about 414 PCA aircraft. The first aircraft (according to plans) should be put into service with the American air force in 2030.
From the statement of the committee:
It is planned that the PCA aircraft will have a significant long range and payload than the F-22. We are also talking about improved stealth options. These characteristics allow him to perform combat missions in the conditions of the most modern and promising air defense systems that Russia has and plans to create as China's potential adversaries.
In fact, we are talking about attempts to create an aircraft that will be able to break through air defense systems based on the use of, for example, C-400 and the promising Russian anti-aircraft missile system C-500. This clearly indicates far from the defensive strategy of the United States of America.
Experts in the United States themselves call the financial parameters of the program "Penetrating Aviation" "incredible." It is noted that the aircraft at a price of one-third billion dollars, which in the end may add another 30 percent, is "too expensive." In the US Congress they are sure that the project, by definition, must be cheaper. However, in the US Air Force, it is argued that the cheaper project can no longer allow military operations to be carried out if Russia has the newest air defense systems, including the mentioned C-500 complex.