Estonia faces a multimillion-dollar lawsuit due to a faulty car that was repaired at an enterprise of an Estonian company, which caused a freight train to get off at Ishim, the portal reports
Seti.ee
.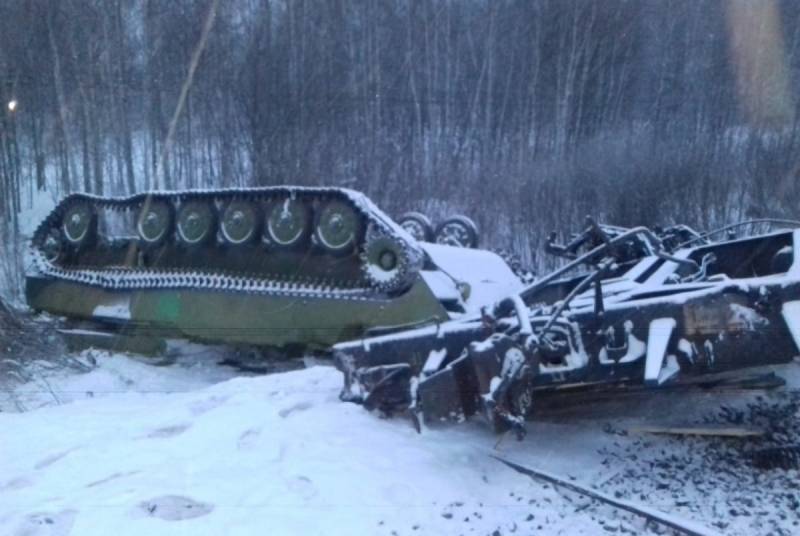 The accident occurred in November 30 on the 537 kilometer of the Sverdlovsk railway on the Nazyvaevskaya - Ishim section. From the train came off the train carrying, including military equipment. Part of the cars and tanks overturned. According to the press service of the Central Military District, the tracked military vehicles, accompanied by the guard, followed the repair plant. A criminal case under Art. 263 CC (violation of the rules of traffic safety and operation of railway transport).
According to the Tyumen Transport Prosecutor's Office, 57 cars derailed. No injuries. The initial version is a rail defect.
Further investigation revealed that the cause of the accident could be the breakdown of the wheelsets of a universal car that had been repaired at the Tapas Depot of the Estonian state-owned Operail (previously called EVR Cargo).
It is assumed that a faulty wheel pair damaged the rail, which eventually led to an accident.
The article notes that after the incident, Russian experts conducted a technical examination of the 51 car, which was previously repaired in Estonia. It turned out that 12 of them do not meet the requirements.
The Estonian side disputes the findings of the Russian investigators, pointing out the presence of many nuances that require additional verification. Estonian engineers visited the scene of the accident and took part in the work of an interdepartmental commission establishing the causes of the accident.
Operation in the territory of the Russian Federation of cars repaired in Estonia has been suspended. If it is proved that poor-quality repairs caused the accident in the Omsk region, then Operail will file a multi-million dollar lawsuit.
The Estonian side has already announced that the control over the quality of repairs at the Tapas Depot has been tightened.
In the Estonian city of Tapa is located not only the railway depot, but also the NATO military contingent.