The newest American rotary-winged aircraft will not be able to make its first flight this year. We are talking about the joint development of the helicopter companies "Sikorsky" and "Boeing" - Defiant (SBD). The director of business development at Sikorsky, Rich Kucerava, stated that during the ground tests a technical problem was identified that needs to be fixed.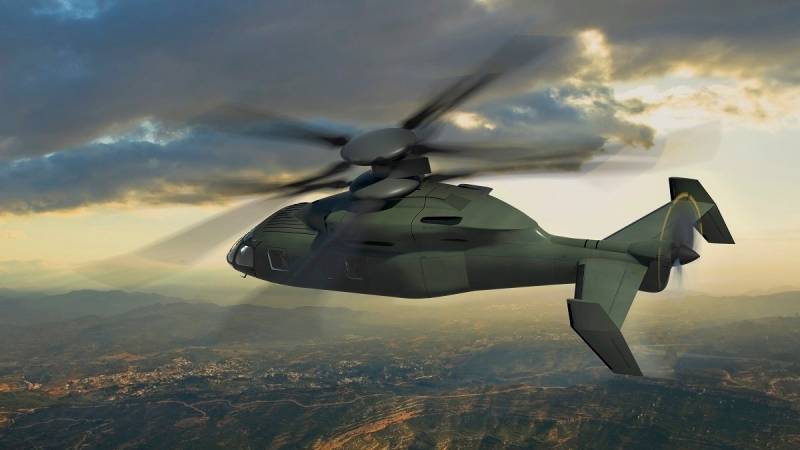 The information during the briefing was confirmed by the marketing director of the company "Boeing" Randy Rotte.
Rich Kucerawa quotes portal
Defense News
:
We are going to move the first flight of our car to the beginning of 2019 of the year. We understand that many people may not like it, but our task is to increase confidence, improve the design itself.
The first SBD flight tests were to take place back in the 2017 year, but they had to be postponed. Then the staff of the jointly created technical group revealed flaws in the propeller blades of the helicopter aviation complex. This year it was stated that the problem with the blades has already been solved. However, during the bench tests, engineers discovered a number of other problems, the nature of which is currently not reported.
Randy Rotte, answering journalists' questions about what problems the engineers revealed this time:
We had a few small problems. I will not go into details right now, but this required some repairs. This is just a mechanical repair.
It is stated that for the beginning of full-fledged flight tests of the airline it is necessary to conduct 15 hours of ground tests with "impeccable results."
It is reported that the final version of Defiant can be put into service with the US Army by the beginning of the 2030-s. This is a three-screw design, and the two screws are made according to a coaxial scheme. The armament of the helicopter complex is planned to be placed in the internal compartments to improve the aerodynamic characteristics that affect the speed of flight.