We can say that I got out of turn, but forgive me, dear, I am not Zoya Kosmodemyanskaya, I, rather, Pavlik Morozov. That is, I will not remain silent, especially since the reason is more than weighty.
I never thought that I would be so offended at the power. Not for our, of course, there is already sometimes stupid to be offended. It became a shame for Russia, where people began to hang on their ears spreading noodles of supposedly Ukrainian batch.
I don't know who will be there and how it will determine who to believe and who will not, but this is for you: Tarakan against Vasilisa from Komsomolskaya Pravda.
Square "in position": empty trains, evil taxi drivers and Poroshenko from all screens
.
So next Sunday I will also make a voyage to Russia and will definitely write something like that. And let someone catch me and refute me.
So, she rushed, true-mother about Kiev, Father and Ukraine!
I'll start from the very beginning, I'll skip the photo for now. Although about him, too, oh, how interesting we will talk!
"The correspondent of" KP "drove through Ukraine and saw with my own eyes how people live on martial law here."
Let's tell the truth: the correspondent of "KP" was in Kiev on the Maidan and Bessarabka. Everything. Nowhere else was she, and she does not need this. Although - in vain.
Kiev ... You will not believe it, but Kiev is quite large. Not so huge, of course, like Moscow, but nonetheless. And, to understand and appreciate, we must not only walk along the Maidan. Kiev has a soul, a heart, and even a stomach! And this is not a Maidan!
Although I have been explaining this to you for three years already ... With variable, so to speak, success. That Nyash-Tarakash, then Svidomo mustache.
"BUTAPHAIRA ALL THIS!"
Here, reading the heartbreaking story of Vasilisa about her fellow traveler Galina, I agree. Props as it is.
"My husband and I planned to celebrate New Year at home. Now I do not know what to do. He stayed here in Russia, and here I am going to Ukraine. Oh, grief, grief ... I have a Ukrainian passport, he has a Russian - he is an officer in retirement, they will not let him cross the border, by no means. "
It sounds funny, right? Galina has a house with her "husband", where they just wanted to celebrate the New Year. In Ukraine, of course. But for some reason up to this point stubbornly stuck in Russia. You can talk a lot about such Ukrainian women and women who magically have such "husbands" on the territory of the aggressor. Love, as they say, is evil. You will love this ... with RUSSIAN passport.
It would be interesting to see what he is, this Russian passport. I have seen Russian ...
But oh well. The fellow traveler Vasilisa, as ordered, is a sort of Ukrainian inadequate sample. Not only that leaving the "husband" rushing headlong to the family with a load of cast-offs, it also drags the child.
Little child is also an interesting phenomenon. 17 years. He is nervous that at the border they can hand over the agenda, but nevertheless, he moves with his mother to his homeland.
"Do not worry," his mother tells him in Ukrainian, thinking that I do not understand. - Do not take you to the ATO, there is only with 18. Dmitro, I show you, everything will be fine. I asked ours. Props are all! "
Yeah, as it is, props! 34 Thousands of deserters - this is also props? Okay, yes, the army take with 18 years. Mom and Dima do not know how to count, that after the onset of the New, 2019 of the year that they go "at home" to celebrate, to meet, Dima will be just "incomplete 18", and no one will release his 158% back to Russia. For - a draftee.
No, it is clear that I really want to expose us ... But my dears, we have such fools like Galya, they simply do not survive, the times are not right! The word Cockroach does not survive.
In general, a normal mother, if there is an opportunity to send a child of draft age somewhere in Mordor, she will send him. Go to the "husband", if you take, to relatives, but at least to the orcs with goblins, just to get away from the front line. The choice between Russia and the ATO is unambiguous.
But such Galya could hardly have become the hero of such a "reportage".
I can say the same about Ukrainian men, whom
"Really one, two and miscalculated. All with Ukrainian passports, cut into cards, bite the vodka lard. "
Well, what do not play on banduras and do not clean the boots with the smalts? Ay, Vasilisa, ah, well done! Well, what else can do the Ukrainian men who go home from Russia? Of course, drink vodka. After all, for a normal Ukrainian to dig up a real vodka in Moscow - just spit. Of course, buying ordinary vodka and sausages on the road in any store is not our way. Only vodka with lard!
In general, it is not vodka with lard, if anything, they are dragging from Russia. I'll tell you a secret: caviar and smoked fish - this is the main article of the import import. And, immediately after the border, all the compartments and second-class compartments will immediately go to those who want to buy all this stuff from you.
"Instead of them, two soldiers sat down to Kiev. I even woke up from the smell of kersey boots - you can't confuse him with anything. The soldiers (the young ones altogether) were snoring peacefully. "
The smell of kersey boots ... And I don't even know what to say ... I will honestly say, despite the fact that I was in the army, of which I did not see any kersey boots. Back in those Soviet times, when canvas boots were in use. But I did not see the kersey boots.
Woman ... She may not know that the Ukrainian army, like all progressive armies of the world, walks exclusively in leather boots.
Well, in Kiev, all in the same spirit. Depressive-progressive.
"In Kiev crossings. Right next to the stalls with the symbolism of independence, flags and embroidery live beggars. They are joking about them - everyone is waiting for 3-th Maidan. "
Yes Yes Yes! But not in the "Kiev crossings", but in the "Kiev crossing"! In one, on the Maidan, in the same place, and I recently filmed. Paired with the subway, and in general, I wrote in the "Notes" that our homeless from the beginning of the winter moved to the subway. It's warmer there. And this transition, on the Maidan, it is also heated by the metro.
And on the rest of the transitions is empty. And if anyone can be found there by chance, it will be guys like "part of the crew, part of the ship, part of the crew, part of the ship". Shortly, in general.
"The Bessarabian market is empty. Salo is sold little (and then only in the farthest corner), and more and more black and red caviar for rich people of Kiev and foreign tourists. "
Yeah, and on the Arbat a lot of buyers? I showed you Bessarabka, it's real as your Moscow Arbat, only with food! And there is no fat, what grief!
And nothing that does not fat one person fed? To him also sausages need, and meat, and fish?
You, my dear (in every sense) Muscovites, like one, buy souvenirs on the Arbat? Here we have a Bessarabka for visitors. But we have there sellers can buy in all languages. Very graduates of the Faculty of Foreign Languages ​​of KSU are held in high esteem.
"The second trouble happened next and upset me a lot more. Generally knocked out of the rut - a taxi driver got me out of the car as soon as I learned that I was a Muscovite.

- I'm not lucky and that's it! Come out! Or pay a triple price. "
Ha ha ha! Drop off? Our? Kiev bombed from the station? Here's a lie ...
And then they do not know which train approached? Here I will believe in the triple price for Muscovite, but who is to blame for that? A clever man, he will call Uber. And the other ... Vasilisa would still have to wear a t-shirt over a parachute to put on Putin on the one hand and Krymnash on the other. And wonder what so many have requested.
Vasilisa would say honestly that it was just that the name was bad (I suppose they called it in dollars), and decided to take a walk like this ...
Well and the main thing. For a snack.
"In Kiev, every day ostentatious anti-Russian marches" ...
And the photo, which was made by a man who has no relation to the "Komsomolskaya Pravda".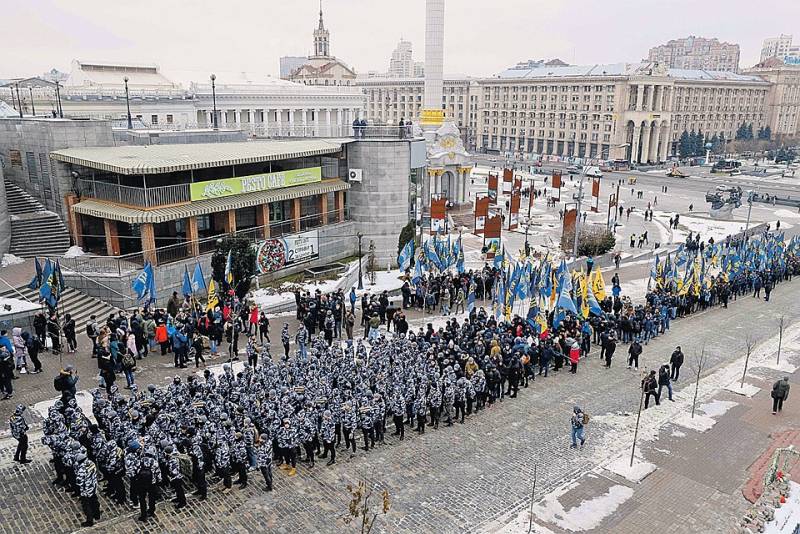 Tell me, who prevented Vasilisa from taking and photographing the marches that took place during her stay in Kiev? Why one and only, 7 December, caught in the lens employee Reuters?
Oh, yes, I forgot this strange peculiarity of the energy sphere of Ukraine - to drink the charges of all energy carriers, without letting you take photos and videos. So, I understand, as long as the daily anti-Russian marches were going on, all the equipment of Vasilisa was on charge. And so every day.
It happens…
But here I will tell you this, and even bring the proof. This korvozhadnye march collected our days five. And, if this is not noticeable from the photo of "Reiter", then I will inform you - they did not collect it. These cripples are the result of greed, for, according to the unspoken law, an hour of treading in the cold costs 100 hryvnia. No money - no crowd.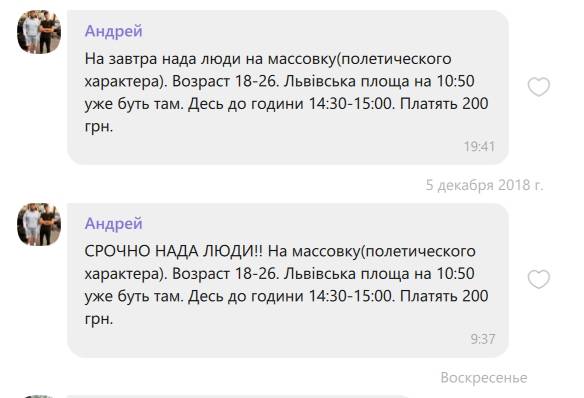 Here are the calls of one of the recruiters. Just for that "march." Were greedy, for 400-500 students, for example, would go. And for 200 - let him jump.
This is precisely the question of our political activity. Messages from the phone of one of my youngest, they all came to the university. Who came - there they are, in the photo.
And the more we have "daily processions" was not. Sorry, Vasilisa, but you've lied a little here. Very little, but that is what it is.
What else to say about Vasilisa material? Well, they ordered her to show us stupid and miserable. It is so clear that "just not in Ukraine."
And I agree that we have something to poke into the eyes. And just I, in the name of the entire progressive insect society, are doing this. Honest and fair.
But when this is the case, they start inventing fairy tales about us, for some reason I fall into a rage. And I promise that after my visit to your side, I will definitely find something like that. On your side. And I stick, as they say, into the oval of the face.
So - wait.
But to you, my dear, real pictures of our life. Those whom Vasilisa did not see. I took it off just the other day, just my soul asked me to wander around the city, but to get some impressions.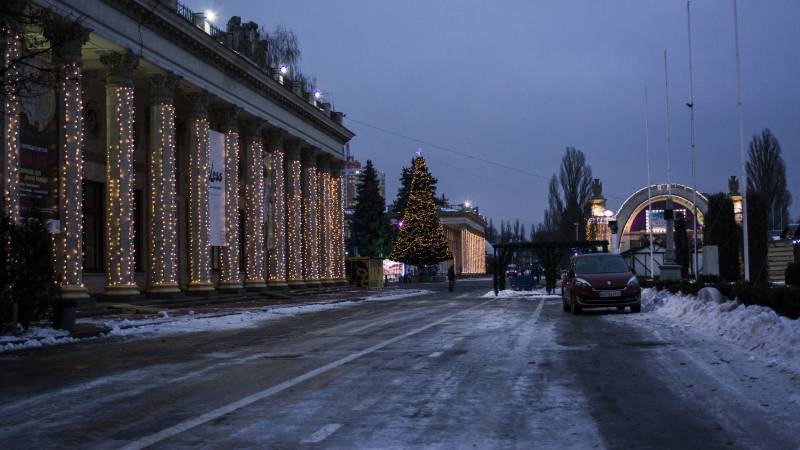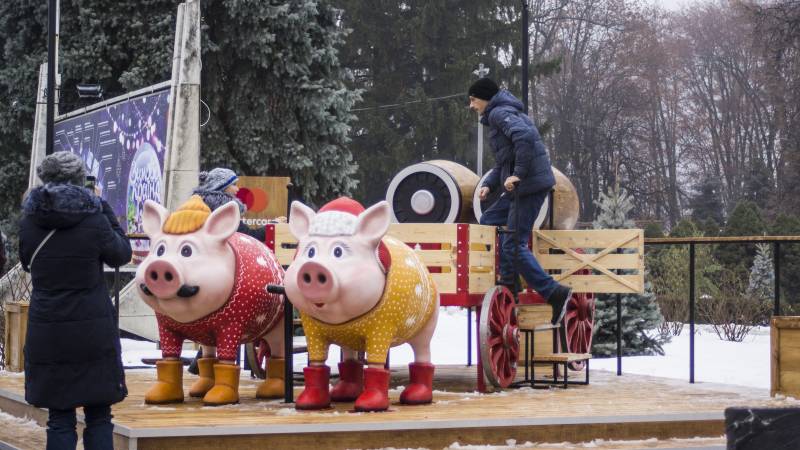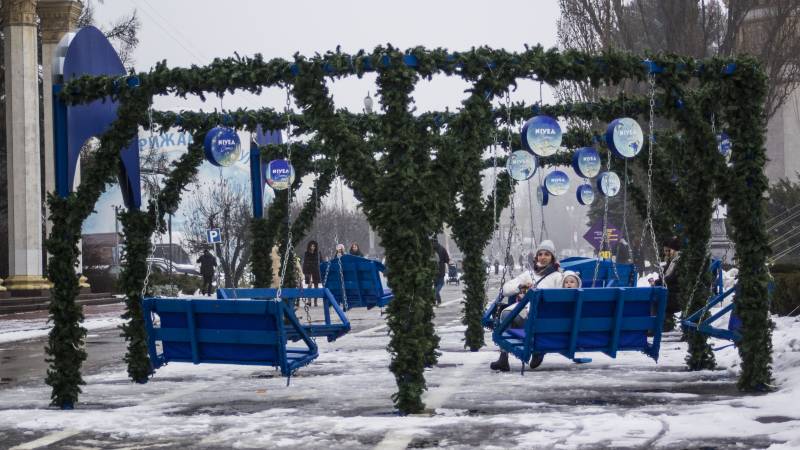 And yes, who did not find food there in Kiev? Not looking there!
What is there to comment? Yes, nothing. If there is a City, it will live. If there are normal People in the City - they will live. In spite of everything.
And I want to push one philosophy.
Fear those who today exposes others to inferior. Today is not you, but tomorrow? This is me not only in Vasilis, this is me and Sergei Brilev, this is me and about our Dima Kiselev. Well, yes, Dima, is he yours now, but before? And before ours was. With giblets.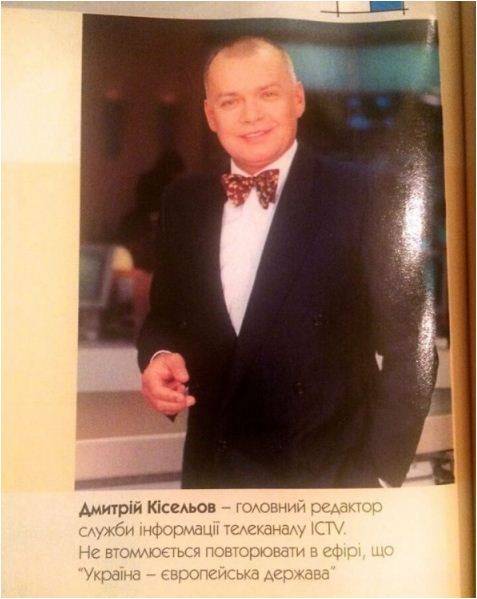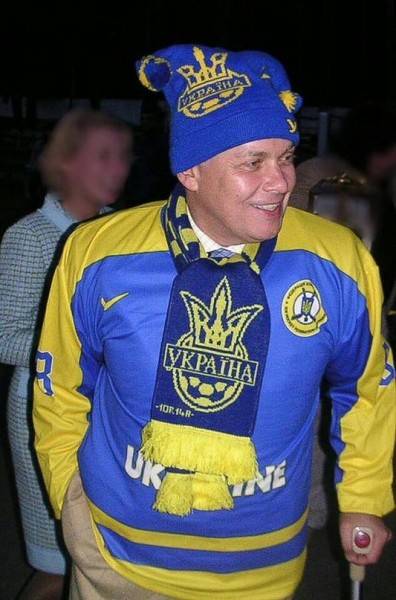 And what kind of speeches were pushing ... Well, today he is the same as you have blizzard, do not stop. So ... Although this is me, I grumble like an old man.
But that's enough, now - see you soon some of you, read your Cockroach, and not all Vasilis fairy-tale tellers there. Do not be fooled by just nonsense, for as you look at the world, so the world will look at you.
Bless you, live happily, smile and enjoy every normal day! Will live!