Today, "Military Review" reported on flight tests of a multipurpose MiG-35 fighter. It was also about the development of the use of on-board electronic systems against the background of the formulation of an intense enemy as a conditional opponent.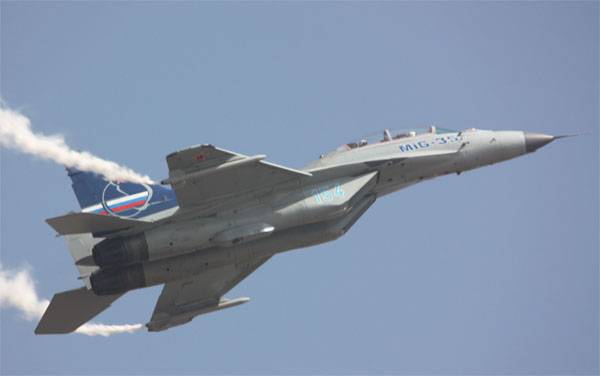 On the channel
"Star"
Meanwhile, test footage of the latest Russian fighter was published. In this case, the plot has a very "loud" title: "The vertical take-off of the newest MiG-35 at the afterburner: a unique shooting." The phrase "vertical takeoff" aroused genuine interest among users, but in the end many were disappointed. The fact that the plot is called "vertical take-off" is, in fact, a horizontal run, followed by the beginning of the climb. In this case, the length of the run, in fact, is extremely small. To achieve a significant reduction allows substantial engine thrust.
Earlier it was reported that during flight tests of the avionics of the MiG-35 and MiG-35UB aircraft confirmed their declared characteristics. The armament control system showed itself effectively.
It is worth recalling that some time ago it was reported about the readiness to install laser fighters on the MiG-35
weapon
. Such a statement was made in particular by the general director of the corporation, Ilya Tarasenko. On the power of this weapon and any other of its parameters, for obvious reasons, is not reported.