In the course of work in open space, Russian cosmonauts Oleg Kononenko and Sergey Prokopiev investigated the damage site of the plating of the MC-09 Union. Recall that we are talking about the hole, which, as previously established, appeared as a result of drilling. To open the screen-vacuum insulation of the ship, the Russian cosmonauts needed a cutter and special scissors. Micrometeoritic protection of the ship was bent clamping pliers. The work was complicated by the location of the hole, which turned out to be very difficult to reach.
The scheme of works was presented on the Roscosmos website: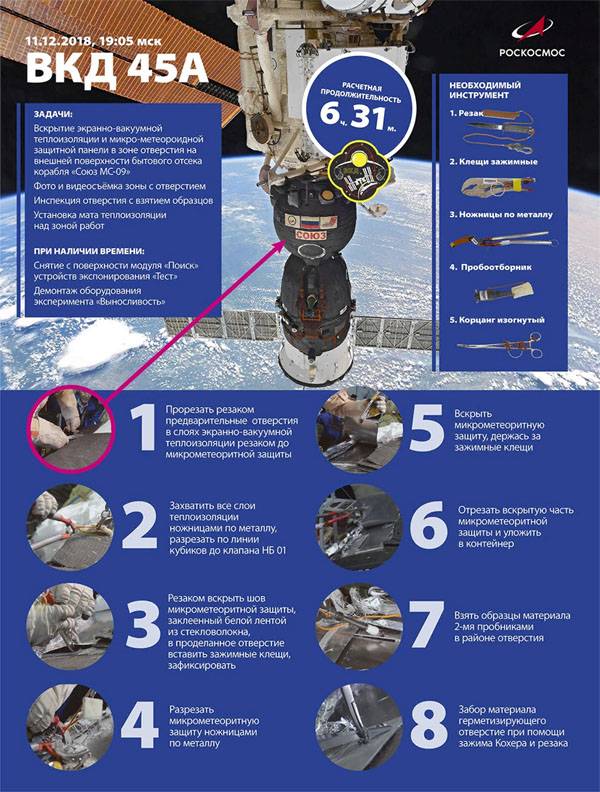 As a result, fragments of the ship's skin were obtained, and now they must be delivered to the Earth for research. In addition, for the implementation of investigative actions, samples of a sealant will be delivered to Earth, with which a hole in the skin of a spacecraft will be blocked.
Recall that the return of the mission from the International Space Station is scheduled for December 20.
The head of Roscosmos, Dmitry Rogozin, thanked the astronauts for their work, which, as noted, was fraught with unprecedented complexity and risk. According to Rogozin, the samples taken will give an answer to the question about the appearance of a hole in the plating of the "Union".
Journalists asked NASA representatives to comment on the work of the Russians in outer space. The American Aerospace Association said they did not consider it necessary to comment on the Russian cosmonauts survey of the Russian spacecraft plating.
TASS
cites a statement from NASA representative Cheryl Warner:
It would be inappropriate to speculate on the results of a spacewalk until analysis on Earth is complete.