News agency
TASS
announces a statement from the embassy of the Russian Federation in Washington. The Russian diplomatic mission urged the US to recognize the fact of the presence of American troops in the Donbas. It is noted that it is time for the United States to recognize the conduct of briefings for Ukrainian military personnel by airborne assault brigades by American officers.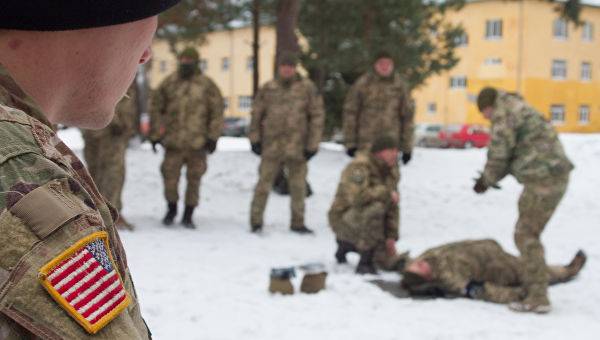 Also, representatives of the Russian embassy called on Washington to open its eyes to Ukrainian realities, where right-wing groups have become more active near the contact line in the Donbas.
From the statement:
This can lead to a bloody scenario.
In a widespread report, the Russian Embassy in Washington notes that it is time for the State Department to pay attention to the fact that SS teams are openly used in the brigades of ASU VSU. We are talking about a famous photo, which depicts President Poroshenko with a group of Ukrainian paratroopers. One of the servicemen of the Armed Forces of Ukraine, who were going to Donbass at that time, had a badge on the chest in the form of the emblem of the Hitlerite division "Dead Head". Poroshenko published this photo on his Facebook page, and the Ukrainians themselves noticed the SS symbolism.
In fact, the appeal of the Russian Embassy to the US authorities looks naive. The United States organized a coup d'etat in Ukraine in order to realize a bloody scenario there. At the same time, the main task of the American special services was to draw the Russian army into the Ukrainian conflict. However, Russia CIA plans crumpled, which causes a storm of indignation among the American elites, who continue to carry out attempts to drag the Russian Federation into the Ukrainian bloodbath.