31 May 2018 The Israeli Defense Minister Avigdor Lieberman visited Moscow on a working visit. The delegation accompanying him included the Chief of the AMAN (Intelligence Directorate of the General Staff), Major General Hyman. What do we know about him?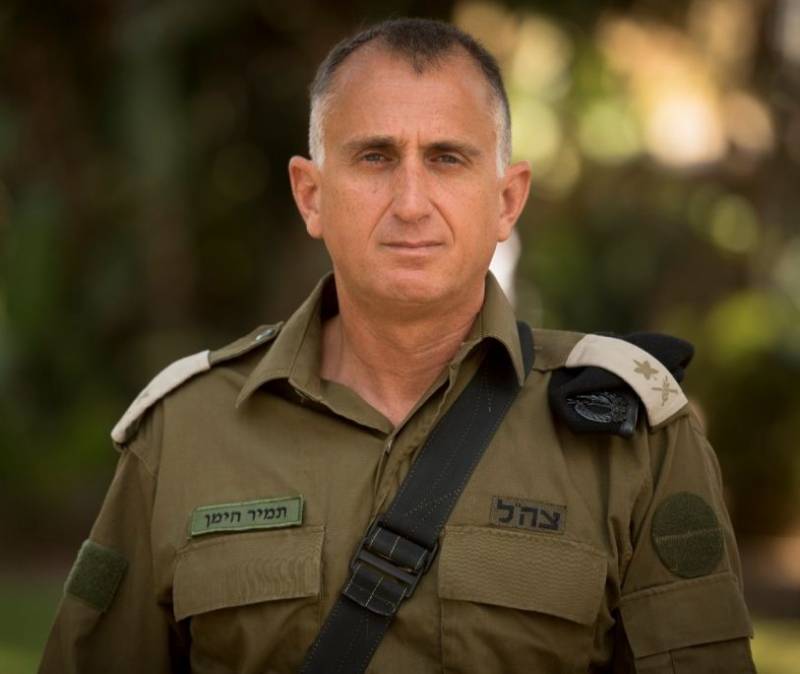 Tamir Hyman was born in 1969 in the city of Bat Yam. In 1987, he was drafted into the IDF (Israel Defense Forces), the 7 Brigade. He graduated from the shooter radio operator. He received a military "baptism" in the eastern sector of the security zone in southern Lebanon.
Hyman later graduated from commander courses
tanks
and officer courses, after which he became platoon commander. After graduating from the Command and Staff College in 1998, he was appointed deputy battalion commander, and later - battalion commander of the same brigade. Tank art became Hyman's ridge, and he was transferred as a battalion commander to tank officer courses.
While studying at the National Security College Hyman with the rank of colonel in 2001 − 2003. served as commander of the reserve tank brigade "Reem", and at the end of this school in 2003, he was appointed commander of the territorial brigade "Efraim", which commanded until 2005 g.
In 2005 − 2006 Hyman commanded the Bnei-Or Brigade. After the Second Lebanon War (2006) he was appointed head of the operations department of the Northern Military District.
In 2008, Mr. Haiman was given the rank of brigadier general and was appointed as head of the training center for headquarters and courses for brigade commanders.
In 2008 − 2011 Hyman was the commander of the Gaash division, in 2011-2013 the division of the Ha-Mapac, whose area of ​​responsibility was the Golan Heights.
In 2013 – 2015 Hyman served in the Operational Directorate of the General Staff, including the head of the planning and combat training department.
From February 2015, the city of Hyman was the commander of the Northern Corps (until December 2017) and at the same time the head of the army colleges: tactical command, command and national security.
In command positions, Hyman took part in military operations during the Second Intifada (2000 – 2004), the Second Lebanon War (2006), in the operations "Cast Lead" (2008 – 2009) and "Cloud Pillar" (2012), in operational positions - in operation "Unbreakable rock" (2014).
28 March 2018 Major General Hyman was appointed head of the intelligence department of the General Staff.
At the University. Bar Ilana holds a BA in Political Science and Economics. Master's degree defended at the University of Haifa.
At the time of the last appointment was married. Father of two children.