In the Chinese media published material, which tells about the enthusiastic reviews of the Su-35 aircraft from the side of the PLA Air Force pilots. It is noted that the Chinese pilots report their impressions of the incredible maneuverability of Russian planes, as well as their technical capabilities, which in a number of areas exceed the capabilities of 5 generation airplanes (4 in the Chinese classification).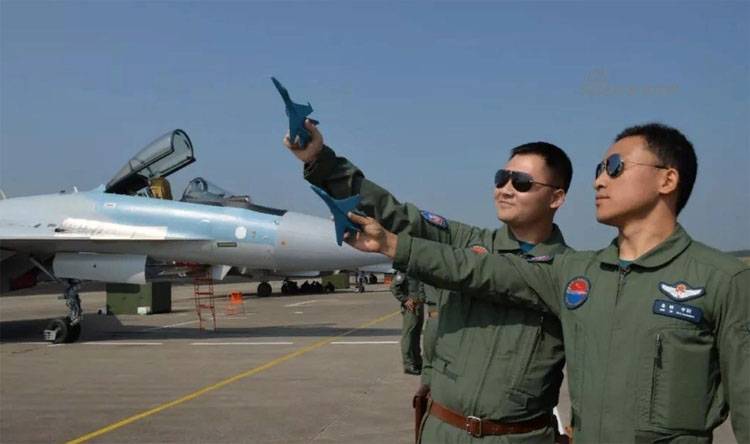 In particular, the resource
SINA
talks about preparing the Su-35 pilots to carry out new missions to patrol airspace over the South China Sea.
From the material:
Americans are anxious when they meet Su-35 fighters. They are clearly impressed with the photos that were published on Russian social networks.
These are photos in which a Russian pilot "caught" an American F-22 aircraft with "stealth" technology in the crosshair of sight — in Syrian airspace.
Sina Military:
The US military still believes that their F-22 is better than the Su-35, but this did not prevent the Russian fighter from not only coming from above, but also taking a picture of the "invisible". The technical capabilities of the Russian Su-35, including electronic suppression systems, may pose a threat not only to the F-22, but also to the F-35, despite the fact that the Stealth technology is not used on the Su-35.
The material contains the arguments of individual military experts who say that the presence of the F-22 photo from the Su-35 "does not mean that it is easy to knock it down." However, their opponents respond with the words that if F-22 was found, it turned out to be vulnerable, then in fact it means defeat in aerial combat.
It is noted that the very fact of hitting an American aircraft in the Su-35 sight exerts psychological pressure on US Air Force pilots.
From the material:
In any case, the F-22 does not have a total advantage over the Su-35, which is constantly being tried in the United States.
Recall that earlier in the same Chinese edition, the issue of studying the Su-35 set from Russia by the Chinese techies was discussed. In fact, we are talking about another attempt to copy the Russian military equipment.