7 December 2018, as
The website reports
"Memorial complex base Pearl Harbor", on the island of Oahu (Hawaii), in the memorial in honor of the dead members of the crew of the lux "Arizona", a memory watch dedicated to the 77 anniversary of the US entry into World War II took place.
As is known, the battleship "Arizona" was sunk in the bay
Pearl Harbor
RІRјРµСЃС'Рµ СЃ РґСЂСѓРіРёРёРјРё РєРѕСЂР ° Р ± Р »СЏРјРё Р ° мерикР° РЅСЃРєРѕРіРѕ
fleet
RІ С ... РѕРґРµ СѓРґР ° СЂР ° СЏРїРѕРЅСЃРєРёС… Р ° РІРёР ° РЅРѕСЃРЅС ‹С ... РіСЂСѓРїРї РІРѕ этой Р ± Р ° Р · Рµ, С З СРРР РРРРРРРРРРР РР ° Р ° Р »Р ° Р ° Р °Р ° Р °Р ° Р °Р ° Р ° Р °Р ° Р °Р ° Р °Р ° Р °Р ° Р ° Р ° Р ° Р °Р ° Р ° Р °Р ° Р ° Р ° Р °Р ° Р ° Р °Р ° Р ° Р ° Р °Р ° Р ° Р °Р ° Р ° Р ° Р °Р ° Р ° Р °Р ° Р ° Р ° Р ° Р ° Р ° Р ° Р ° Р ° Р ° Р ° Р ° Р ° Р °Р ° Р ° Р °Р ° Р °Р ° Р °Р ° Р ° Р °Р ° Р ° Р °Р ° Р °Р ° Р ° Р °Р ° Р ° Р °Р ° Р °Р ° С Р »РѕРј РІРѕР№РЅС‹ РЅР ° РўРёС ... РѕРј океР° РЅРµ.
As a result of the destruction of the battleship, 1177 people died, of which more than 900 was immured in the interior of a combat ship.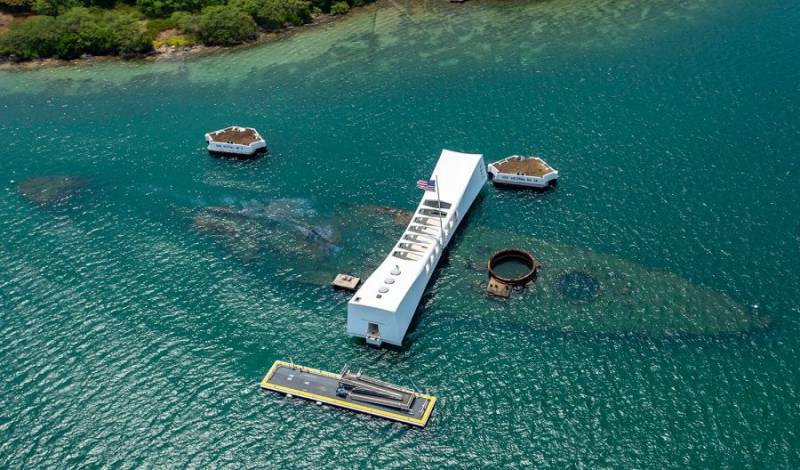 View from the bird's flight on the body of the battleship "Arizona", sunk during the strike of Japanese aircraft, and a memorial erected over it in the waters of Pearl Harbor.
Photo source: https: //www.stripes.com/news/veterans/with-five-uss-arizona-crewmembers-remaining-it-s-twilight-for-pearl-harbor-survivors-1.559207
However, a number of crew members of the "Arizona" still survived, and those who survived in the fire of further battles of the Second World War, many years after it ended, came to the ceremony dedicated to the 7 tragedy of December 1941.
The 5 crew members of this battleship are still alive: Lonnie Cook (98 years), Luren Bruner (98 years), Kan Potts (97 years), Lou Conter (97 years) and Don Stratton (96 years). True, for the first time in all the post-war time, none of them will be able to attend, for health reasons, an event related to the attack of the Japanese on the US Navy base in Hawaii.
However, 40 is still living American veterans of the war in the Pacific participated in the solemn ceremony of memory (of this number, about half - those who survived the blow to Pearl Harbor).
In conclusion, we will quote the words of the Managing Director of the ceremony:
What a pity that the last of those who still remember the first steps on the long road to Tokyo, started on December 7 of December 1941, are gradually leaving us ...