More than three weeks have passed since the collision of the frigate of the Norwegian Navy "Helge Ingstad" class "Fridtjof Nansen" with the tanker "Sola TS". A Luxembourg-based Gulliver floating crane with a carrying capacity of 4 thousand tons approached the site of the sinking of a warship in the area of ​​Bergen. In this case, the operation to lift the frigate has not yet begun.
In the Norwegian Navy, together with representatives of the Belgian-Luxembourg company Jan De Nul, which owns Gulliver, they are discussing possible measures to raise a submerged warship that could not disperse from the said tanker, having received a hole below the waterline.
Earlier, the Norwegian Navy made claims to the Spanish manufacturer of frigates of this type. The claims were that the frigates are created with a level of survivability, which is significantly lower than stated. The flooding of the "Helge Ingstad" is given as an example, although damage was received to one of its compartments. The Spaniards, in response, say that the critical roll of the ship is to blame, which ultimately led to the frigate "sipping" water.
One of the proposals under discussion is to evacuate water from the internal compartments of a submerged frigate fixed off the coast, reducing its total weight. This is necessary so that the "Gulliver", in terms of its carrying capacity, could at least begin to lift the "Helge Ingstad". Recall that the displacement of the Norwegian frigate is almost 5,3 thousand tons. The scheme of possible works is presented.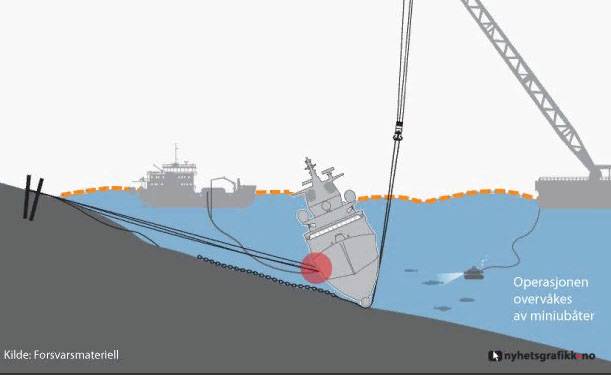 The next stage should be the underwater alignment of the combat ship with the help of the arrows of the same "Gulliver". As soon as the alignment takes place, the main lifting phase will begin.
In this case, the question arises whether Helge Ingstad will not pull that Luxembourg floating crane, whose carrying capacity is lower than the frigate's displacement, to the bottom?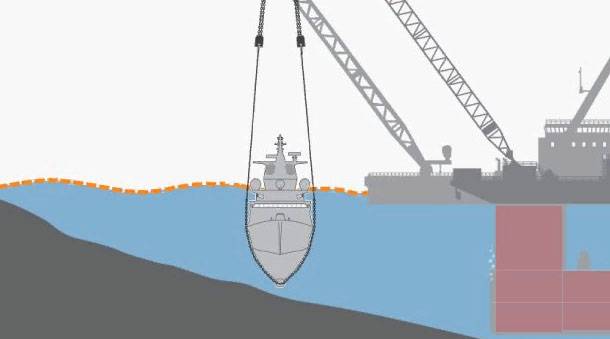 The developers of the lifting plan, naturally, preoccupied themselves with this problem and suggested the following: bring special pontoons under the "Gulliver", which will add buoyancy to it (marked with a reddish tinge). Then the pontoons can be used for the raised frigate of the Norwegian Navy - for further transportation to the port. This kind of scheme is presented on
navaltoday.com
.
Experts note that the weather, which has been established in the area of ​​the frigate's flooding, is preventing the process from starting. Strong wind and rough seas significantly complicate the Helge Ingstad lifting operation. But if the process is delayed, then the winter weather may deteriorate completely, and the process will have to be postponed until spring, which may affect the condition of the flooded ship.