Restoration work on the received damage as a result of flooding the PD-50 floating dock, the Admiral Kuznetsov aircraft carrying cruiser, cannot be started until the fallen tower crane is removed from its deck. This is one of those cranes that were installed on the floating dock and that fell after the water began to fill the internal compartments of the PD-50. Recall that the incident occurred at 82-m ship repair plant in the Murmansk region 30 October. At the same time, there is still no accurate data on the true causes of the flooding of the country's largest floating dock. Reported the reason for such a failure in the power supply system.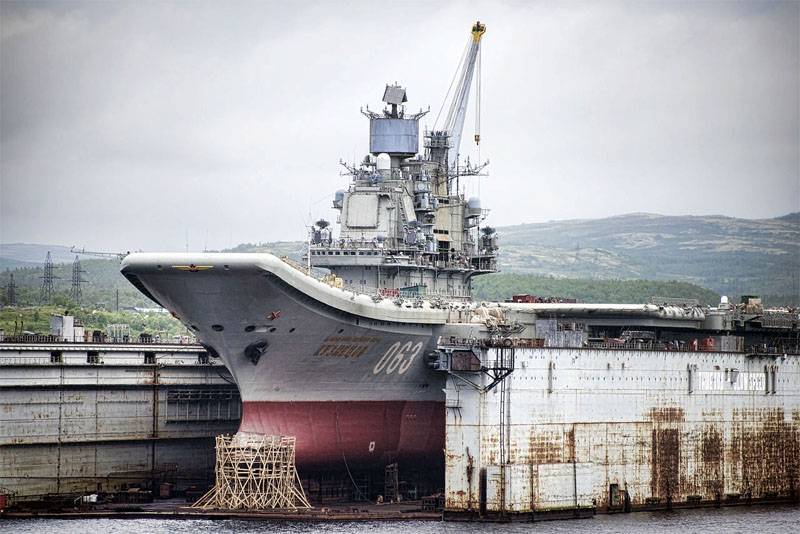 RIA News
citing sources, reports that the deck of the only aircraft carrier in Russia will be cleared before the end of this year. At the moment, work on cutting the structures of a fallen and damaged tower crane is in full swing.
Recall that earlier in the ship repair industry reported on the monitoring of damage "Admiral Kuznetsov." In total, over 50 of various kinds of damage were identified, and the deck of the ship that the fallen crane had pierced suffered the most. According to some reports, for the restoration work will need about 70 million rubles.
It was also reported that the damage to the "Admiral Kuznetsov", which had been originally established for the repair and modernization of the damage caused by the flooding of PD-50, would not affect it. Such a statement was made in the United Shipbuilding Corporation.