The President of the Russian Federation for the first time commented on the statements of Petro Poroshenko that he is trying to phone him, but every time he is refused by the Kremlin. According to Vladimir Putin, he does not intend to participate in the election campaign of Petro Poroshenko. It is the pre-election actions of the Ukrainian president that the Russian leader considers all his last steps, including the provocation near the Kerch Strait and the events with the introduction of martial law in the 10 regions of Ukraine.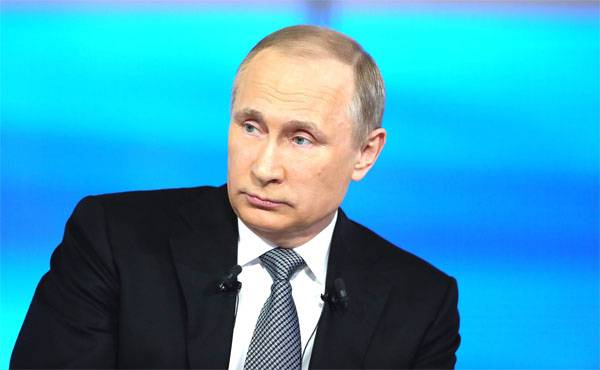 President Putin:
The point is not that I simply shy away and do not want to talk with Pyotr Alekseevich, this is not the point. The fact is that I do not want to take part in his election campaign.
According to Vladimir Putin, Poroshenko artificially creates crisis situations, shifts the blame for this on the Russian Federation, and then tries to demonstrate that he successfully solves the problems that have arisen.
President of Russia:
This is a simple combination, and I do not want to participate in these combinations and I will not.
Recall that Petro Poroshenko in his many recent interviews repeatedly stated attempts to reach the Russian president. The refusal of Vladimir Putin from telephone conversations with him Poroshenko declared "the refusal of attempts to de-escalate the situation."
The President of Russia, meanwhile, clearly makes it clear that talking to frank puppets of the West who are trying to show themselves to be independent politicians is pointless.
The presidential election in Ukraine should take place on March 31 2019 of the year, if until that time the martial law imposed by Poroshenko is not extended. Poroshenko himself said earlier that "the transfer of the election is in the interests of Putin." What exactly is this "interest" is, the president of Ukraine could not explain.