Alex Younger, head of MI6 (British Foreign Intelligence Service), issued a warning to Russia in front of students at a university in Scotland. He warned Russia against attempts to "shake the British way of life" so that we "would not underestimate the determination of Britain and its allies," and the Scottish youth called for "taking a step towards intelligence," that is, becoming its informants, in simple terms - informers.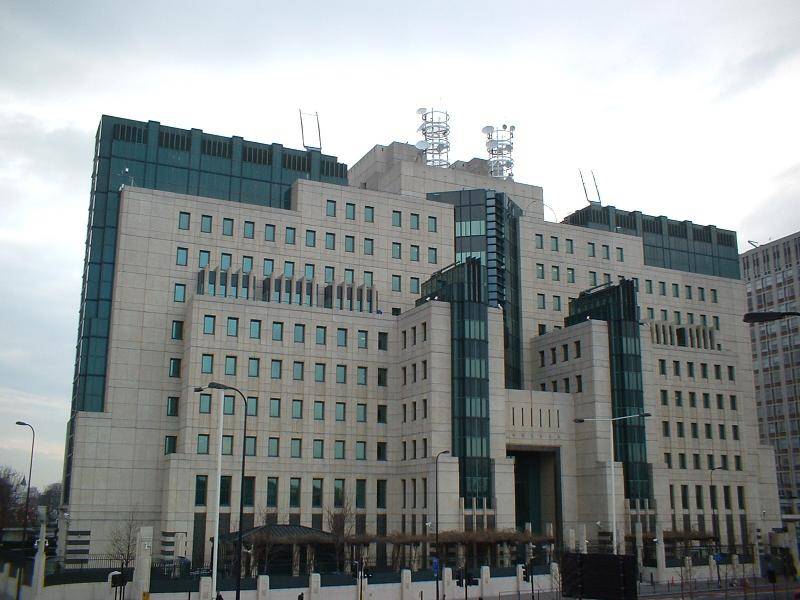 What are these attempts at an attempt at the "British way of life" is meant by old Yanger? Is the poisoning of the citizens of Russia Skripale, at least, Julia Skripal, OV "Novice" in Salisbury? Not far from a chemical lab with a Novice production technology in Porton Down?
Heili Likely, Skripale poisoned by order of Alex himself. The criminals, as you know, are pulling at their crime scene, because of vanity, they often hint that this high-profile crime is their own business. Casual, for initiates, speaking for some reason in front of Scottish students, but secret thoughts rush out, and Alex can not fail to mention the "Scripals" case, attributing it to the "attempt on the way of life of Britain" on the part of Russia.
In general, how can Russia encroach on the "lifestyle of Britain"? Our embassy in London is almost in a state of siege, the British press does not stop throwing mud at Russia for any reason and for no reason, just in case, all our traitors find refuge and support primarily in London. I do not they "attempt"?
Interestingly, Younger did not say anything about "British democracy," perhaps she had already died under the pressure of MICHNUMX to properly highlight "Skripale's poisoning," so that she would not ask stupid questions about any evidence? There is still no evidence, only high-level likes, so Yanger recruits informers to protect this "lifestyle"?
In general, it is time for Russia to invoice the British Youngers: where is the Creak? Or have you killed them long ago, based on the "vital" British interests?
BBC journalist Mark Urban, particularly close to MI6, allegedly talked with Sergei Skripal, who had recovered, and wrote a whole book, The Case of Skripal, for the sake of one passage: . And it is clear why: Scripal does not believe that he was poisoned by the Russian special services, and in general he has pro-Russian sentiments, he even watches Russian television! Having written about it in his book, Urban explained, by the way, the motive of Skripale poisoning by the British special services!
Most likely, Sergey Skripal did not encounter anything, he just knows, as a former GRU officer, that by recognizing "poisoning with Russia," he will sign the death warrant from James Bond from MI5 and MI6. Sergey Skripal has nothing else to do but to represent himself as pro-Russian, in order to prolong the life of himself and his daughter Yulia. Swearing after "Novice's poisoning" to Britain's loyalty and accusing Russia, he becomes a waste material, a candidate for sacred sacrifice, and is awaiting his "Berezovsky scarf". Or he already waited for him, for his geerushnoe stubbornness.
In general, the main instrument of the war of the West is a lie, we see this lie with our own eyes, from a tube containing the supposedly poisonous substance of US Secretary of State Colin Powell to a bottle of "Novice" perfume near Porton Down in Salisbury. What is the difference? In Syria, MI6 fabricated chemical attacks allegedly by Bashar al-Assad through the White Helmets controlled by them, they used the Novice at home in Salisbury, and covered themselves with the help of highley likes.
Demonstratively, next to the chemical laboratory in Porton Down: yes, this is our job! Who will they kill, poison tomorrow? After the "Scripal poisoning" with the findings of highly likes, you can expect anything from Britain! In general, the main values ​​of the West have become lies and cynicism. It all started with the fact that slandered the world
history
by putting Hitler and Stalin on the same level, and today in Ukraine, Bandera whitewash, supporting the Kiev regime.
DPR intelligence reports that British servicemen with some boxes on which "chemical designations" appeared on the contact line in the Donbass, and warns of possible provocations using chemical
weapons
possibly under the guise of destruction of chemical production.
It may well be that the English "White Helmets" are transferred to the Donbass. Alex Younger is quite capable of this for the sake of protecting the "life of the British way of life", because he openly threatens: Russia "underestimates Britain's determination."
Maybe Russia needs to show determination and demand that Skripale be presented to the world? Require the return of the Russian citizen Julia Skripal? Otherwise, to blame Britain for the murder of Skripale under aggravating circumstances: for the sake of shielding the "vital British way of life."
Continuing the thought of the English critic Samuel Johnson and Leo Tolstoy, who voluntarily quoted him, we can say that today Western humanism, democracy and freedom are the last refuge of scoundrels who, instead of conscience, always have on hand the likes of "life style" like Alex Younger.