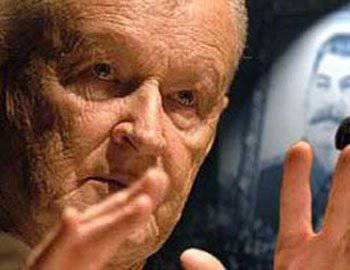 "If the Russians are so stupid that they try to rebuild their empire, they will run into such conflicts that Chechnya and Afghanistan will seem like a picnic to them."
http://azer.com/aiweb/categories/topics/Quotes/quote_brzezinski.html
"We have destroyed the Soviet Union, we will also destroy Russia. You have no chances "
From an interview with General Rokhlin, 1997 year, a reference to the newspaper "Gudok"
"Russia is an extra country at all."
From here, but the source is so-so http://ldpr-online.ru/tag/%D0%9B%D0%B8%D0%B2%D0%B8%D1%8F/
"Orthodoxy is the main enemy of America."
http://rusk.ru/st.php?idar=110759
"Russia is a defeated power. She lost the titanic fight. And to say "it was not Russia, but the Soviet Union" means to flee from reality. It was Russia, called the Soviet Union. She challenged the USA. She was defeated. Now it is not necessary to fuel the illusions about the great power of Russia. We need to discourage such a way of thinking ... Russia will be fragmented and under guardianship. "
From the book "Choice. World domination or global leadership "(Moscow, International Relations, 2010 g., P. 127)
"Russia can be either an empire or a democracy, but it cannot be both. If Russia remains a Eurasian state, pursues Eurasian goals, it will remain imperial, and Russia's imperial traditions must be isolated. We will not observe this situation in a passive manner. All European states and the United States should become a united front in their attitude towards Russia. "
Zbignev Brzezinski. Premature partnership
"A country of such a huge scale, a country of ten time zones can successfully develop if it ceases to be centralized and will not be controlled by an increasingly parasitic elite located in one place"
Interview to "Nezavisimaya Gazeta", December 31 1998 of the year http://sovserv.ru/KA6AH/usatruth/usatruth.by.ru/bzhezinskij.htm
"... Russia, organized according to the principle of a free confederation, which would include the European part of Russia, the Siberian Republic and the Far Eastern Republic, would have been easier to develop closer economic ties with Europe, with the new states of Central Asia and with the East, thereby accelerating would be the development of Russia itself "
Translation from the "Great Chessboard" http://conspi.ru/publ/zbignev_bzhezinskij_velikaja_shakhmatnaja_doska/geostrategija_v_otnoshenii_evrazii_6/180-1-0-1447
"For Russia, the only geostrategic choice that would enable it to play a real role in the international arena" is transatlantic Europe with an expanding EU and NATO. "
From the same http://www.nationalsecurity.ru/library/00010/00010part4n.htm