The Pacific Fleet (PFD) in the 2018 year was recognized as the best in the Russian Navy, reports
press office
BBO.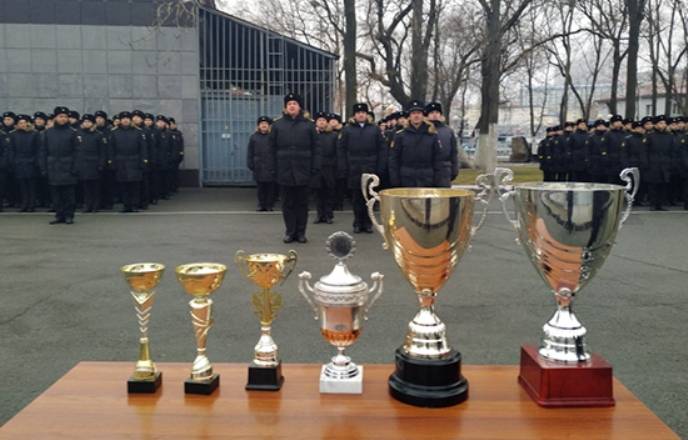 On Monday, solemn meetings dedicated to the start of the new school year were held in the units and units of the Pacific Fleet, which were attended by representatives of the command of the Eastern District, members of the Military Council, and heads of departments.
Commander of the pacific
fleet
Admiral Sergey Avakyants visited the formation of surface ships of the Primorsky Flotilla of diverse forces.
In his speech, he noted that according to the results of 2018, the Pacific Fleet fulfilled all the combat training tasks assigned to it.
He recalled that fleet formations took part in a large-scale exercise "Vostok-2018", as well as in a number of special exercises. The ships of the Pacific Fleet carried out a number of long voyages with visits to the ports of ten states. The fusion of all ships exceeded 17 thousand days. Sailors received 14 prizes of the commander-in-chief of the Navy in various types of training, and the Pacific Fleet as a whole received the first place among the fleets for the second year in a row.
I thank all of you for your service, and I hope that next year will be a year of qualitative development for the Pacific Ocean, which will allow us to show good results again.
said the commander.
The event ended with the passage of personnel.
The press service also reported on the completion of the business call of a detachment of ships in the composition of the missile cruiser Varyag, the anti-submarine ship Admiral Panteleyev and the large sea tanker Boris Butoma to Changi naval base (Singapore).
As part of the visit, the squad leader visited the commander of the Singapore Navy, the base commander and the mayor of the city. The cruiser was visited by the Russian ambassador to Singapore Andrei Tatarinov. Guided tours were organized for sailors
historical
places of the city.