American reconnaissance aircraft and reconnaissance drones continue almost daily flights to the Crimean Peninsula and the Kerch Strait. According to Internet resources monitoring movement
aviation
Since November 25, when an incident occurred with violation of the Russian state border by Ukrainian boats, 9 reconnaissance flights of US intelligence officers in the area were recorded, and the tenth began this morning.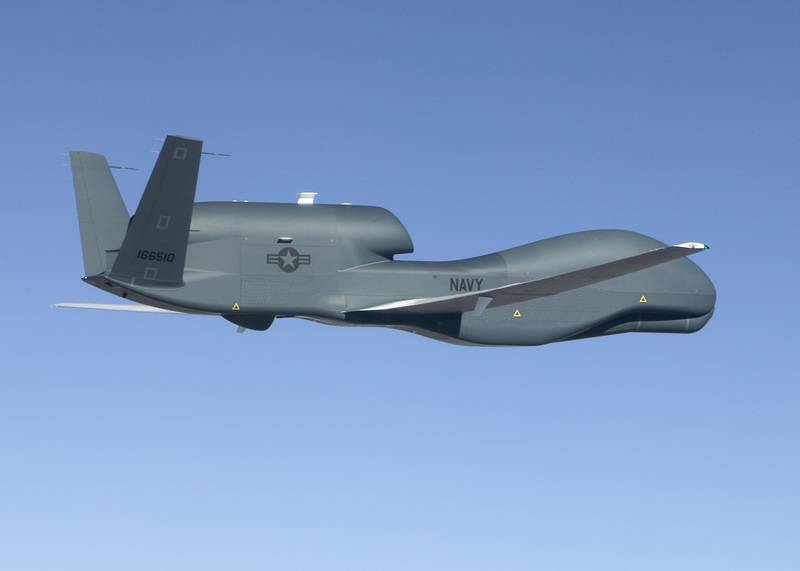 On the eve, many hours of reconnaissance in the area of ​​the Kerch ferry was conducted by the strategic reconnaissance drone of the US Air Force RQ-4A Global Hawk, which flew out of Sigonella airbase in Greece and circled over neutral waters in the Crimea for several hours. At what it is reported that, unlike all the previous times, when reconnaissance of a drone began with a span along the demarcation line in the Donbas, the drone immediately went to the area of ​​the Crimean peninsula and the Kerch ferry, where he spent the whole time of reconnaissance.
No sooner had RQ-4A Global Hawk left the airspace above the neutral waters of the Black Sea, as it was replaced by the US Navy's Boeing P-8A Poseidon patrol anti-submarine patrol aircraft, which then reconnoitred the coast from Sochi to Novorossiysk, in some places approaching the coast for a distance of 40 kilometers.
Currently, in the area of ​​the Crimean coast, a reconnaissance aircraft of the United States Air Force's Boeing RC-135V is conducting reconnaissance aircraft, which departed from the Greek island of Crete. The aircraft is designed to open air defense systems from long distances.