We are tired of walking in children,
And I appeal to the country
Give
weapon
brave
And first of all - me!
Mikhail Svetlov, Soviet front-line poet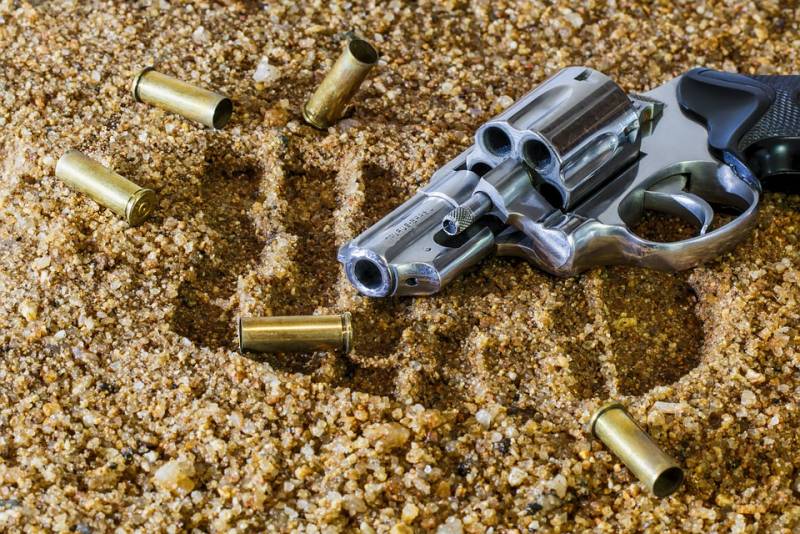 My friends still keep a colorful brochure on glossy paper, which was released and distributed in Moscow for the Olympics-80. There are questions that foreigners can ask Muscovites, and give answers to them so that you can adequately represent our country. So I decided to do something like a memo to supporters of personal armed self-defense so that they could not go after the word in their pockets in disputes with our opponents, especially since all the answers to their attacks have long been given, in detail and in various ways, by us on the basis of facts and numbers
Our opponents have the same manner as if this is the same thing that has never been discussed, so let our people have the opportunity for this repetition to immediately give answers and demand answers to questions arising from our answers. From personal experience, I can say that such an approach is always effective and makes us lose or wag our opponents, piling up absurdities, which compromise them perfectly in the eyes of those who follow our disputes, developing their own opinions.
Sometimes, unfortunately, I have to note the lack of attention of my like-minded people in the comments of various articles on the web. This is expressed in that it is quite enough for the attacks of opponents for a worthy answer to cite a suitable quote directly from the material being discussed, and to demand an answer from the opponent already to your answer, and even asking him with a sarcastic phrase: what did he try? notice?
Based on the foregoing, I suggest that like-minded people with me in several publications prepare for all of us all the answers to all the attacks of hoplofobs, so that each of us copied these materials to himself, and then, in our endless disputes on the Internet, as soon as he starts to twist the hoplofob his hackneyed record, immediately in response to him issuing a suitable quote from the memo created by all of us, or forcing him to argue more difficult, but oh how difficult it is, or ... he just lost his bewilderment. How many times convinced of this when he participated in such "battles".
To this it should be added that none of us should get excited in such discussions. No need to set a goal to somehow convince hoplofobs, because this is just a different human psycho from us, which is organically unable to live and think like us. And we are just ashamed to disgust for the fact that now the government and most of the media are controlled by their like-minded people. The task is to make the majority of the conscious population in the country imbued with our worldview. And this majority is now at least with serious interest, although silently, following our disputes. This is indicated by the excellent ratings of views of all materials on the subject of personal civilian armed self-defense. Therefore, our disputes with hoplofes should be made as organized and developed as possible, completely "undressing" our opponents in the eyes of the audience. And it is not at all necessary to convince anyone specifically, just calmly and systematically refute the hoplofobs, and they themselves will further agitate for our further behavior, because thinking and very intelligent people tend to follow our disputes.
Below, I present the main set of Hoplofobs' attacks, the very "broken record", and my answers to them. If my answers seem somewhat incomplete, then please, welcome. I will reflect all practical additions with gratitude in subsequent publications of our general memo. Look for and provide links to facts and materials, convincingly confirming our point of view. This is also very suitable for future reference. So let's go!
1. Russian in the mass are uncultured, prone to drunkenness, rudeness and incontinence. They trust weapon dangerous.
In Russia, 5 million legal rifles are on hand, 500 thousand traumatic pistols, almost 10 million illegal barrels, and crime with their use is literally single. In addition, in the Baltic States, Moldova, Georgia is full of Russians, civilian short-barred, and no "horrors" are allowed. Are Russians different there? At the same time, in terms of the number of criminal killings among the population, Russia is in one of the first places in the world, far ahead of countries with legal civilian self-defense weapons, including the former republics of the Soviet Union, where the short-barred was allowed. And about the rudeness, drunkenness, lack of culture and the psychopathic nature of their people, hoplofobs are absolutely annoying in all countries: from England, France, the USA to the Baltic states and Japan. This is not surprising, because the people are not trusted and only weak people who have high self-esteem and unwarranted life claims are afraid of it.
2. If you allow a short-bar, then it will be immediately bought by criminals and psychos, and they will receive authorizing certificates for bribes from corrupt police officers and doctors. Or they will start attacking people in order to take possession of their pistols.
When in the post-Soviet and post-socialist states the shortbag was resolved, the question of corrupt doctors and policemen was also, it was adjusted simply: if the gun they resolved fired in the hands of a criminal or psycho, they lose their profession and get a prison sentence, because you can see who gave out, knowing in advance what hands the purchased gun would fall into. And the best-selling doctors and policemen simply thought that they would never receive large bribes for help, but for a small thing it would be stupid and ridiculous to jeopardize a career with freedom. And in general, why would a criminal have a legal pistol? To immediately get caught when it is applied? Why take the gun from the owner, if you can safely buy it on the black market, without risking that the gun owner will fight you back or remember you for the police, or will the police catch you after the attack at the crime scene? However, this Hoplofobsky opinion can be understood ... Now the power of their like-minded people, so it is weak. Here are the hoplofobs and think that in resolving personal armed self-defense, the power will remain the same as it is now, which means that it will be unable to ensure either integrity or security.
3. In countries where citizens 'access to arms is freer, mass killings occur regularly. Do you want it to start in Russia?
Attempts of mass murder by maniacs and terrorists occasionally occur in any countries, regardless of any bans on weapons, and in Russia too. Moreover, such killers always try to appear where they know for sure that they will not receive an armed rebuff. In the same America, mass murderers come to places where they know for sure that they will not shoot back, where ordinary citizens are forbidden to show up with their weapons. During the events in Budennovsk, Basayev's terrorists didn't attack the local military unit and even the local police station, but captured the hospital. In China, all firearms are banned, so local maniacs appear in schools and kindergartens with knives and axes. And sometimes they kill much more than from a firearm before they are stopped. But in Switzerland and Israel there are no zones free from armed people. So there are no massacres, all such attempts are stopped immediately by armed citizens almost always before the appearance of the police. According to American police statistics, forty percent of American prisoners are scared, injured or detained during crimes by armed citizens, and many mass psychopathic shootings have been prevented by them. These data have been cited for many years by the National Rifle Association of the United States when there hopophobes try to encroach on civilian weapons. The same data diligently hush up hopophobes, which saddled almost all American and European leading media.
4. Among the owners of civilian weapons may increase the risk of accidents due to him.
If you talk like that, then first of all you need to ban private cars, the statistics of accidents due to them will always overwhelmingly exceed the number of misfortunes for any other reasons. Moreover, such "care" from the side of hoplofobs is offensive in principle! By acquiring a weapon, a person consciously assumes all the risks and all the responsibilities associated with it, he is not a child, and the state has nothing to reduce it to.
5. After the permission of the pistols, their owners will be massively put on trial for violating the law on the limits of necessary defense.
Even now, the courts are constantly imprisoning us for exceeding these "limits", often contrary to common sense! Just need to change the law. By the way, on this issue in our country among the citizens is now almost complete agreement, with this, even those who are against the legalization of the short-barrels agree. But the hoplofobs in power are not openly noticed. Interestingly, is it from their side so arrogance or such nonsense?
6. Do you think traumatic pistols are not enough?
Injuries should be banned altogether. You can kill them, but they will not defend themselves. In addition, the bullet from the injury without a sleeve can not be identified, and the sleeve after the murder is easy to hide. No wonder travmaty as a civilian weapon in other countries is prohibited almost everywhere. There it is the weapon of police professionals to keep criminals alive. And we, in Russia, again put our pants over my head.
7. Are you being killed, raped, robbed every day?
And what, in this case, are you ready to allow personal armed self-defense with a personal shortbore? No, of course they kill, rape, rob and kill around the country every day, but not everyone, but this danger is every day for everyone, and we are ashamed in case of danger of being guaranteed helpless, as it is now. And you, gentlemen hoplofoby, why is it not a shame?
8. Criminals will take away guns from legal owners.
Something anywhere in the world is not observed. This for you, hoplofobs, criminals are invincible supermen, and we do not consider them as such. So prove to us your point of view by allowing us normal pistols, and then we'll see ... If we are wrong, we can prohibit everything again. Eh? How do you like this option, gentlemen hoplofoby?
9. We all pay taxes to the state, so let it be our security structures and provides us with security.
Russia is the number of security forces in relation to the population in one of the first places in the world. Their content is very expensive. The country is forced to withdraw this money from the economy, education and culture. What objectively creates the preconditions for the growth of crime. Where when when
stories
and in which countries it was only possible by the state to create not even absolute, but at least an acceptable level of security for the entire population? And in general, gentlemen hoplofoby, why do not you want to demand that the state wipe your noses, change diapers and nipple feeding? By the way here
link
on the latest and very interesting research material on this topic! I invite everyone to read and comment.
This is the basic set of nine points listed. If you need to add more points, suggest. Answers point by point can also be developed and supplemented, I will summarize all this in the following publications. I'm waiting!
PS Recently, Maria Butina, the founder of the "Right to Arms" movement, was once again sent to solitary confinement in an American prison for no reason. But what's wrong with that? They just break. And our state in response only utters miserable words, demonstrating its helplessness. And our domestic hoplophobes do not hesitate to repeat the fabrications of the American press against Maria on the net, and even add their own, I will not quote these "tops" of baseness here. On November 10, Maria celebrated her birthday in prison. I think that it should be morally supported. Her father, Valery Butin, is allowed to communicate with his daughter relatively regularly, here is his address:
[email protected]
, send your words of encouragement and support to Mary, she will know about them. In the picture, Maria cuts the anniversary cake with the Right to Arms logo at the congress of the movement in 2014, when the organization received the status of an All-Russian organization, creating its branches in most regions of Russia.
PPS Detailed comments on this material from opponents are in demand and welcome! Shyly, I propose no longer informing me, as it always happens, to which I am bored, for such messages already remind the princess from the movie "Ordinary Miracle" at the moment when she declares: "I have been chasing you for three days to say how you are I don't care! I will prove it to you ... I will die, but I will prove it! "