The head nuclear-powered submarine strategic-purpose missile cruiser of the modified 955A project (cipher Borey-A) Prince Vladimir 28 November 2018 of the year went to sea for factory running trials, reports bmpd blog.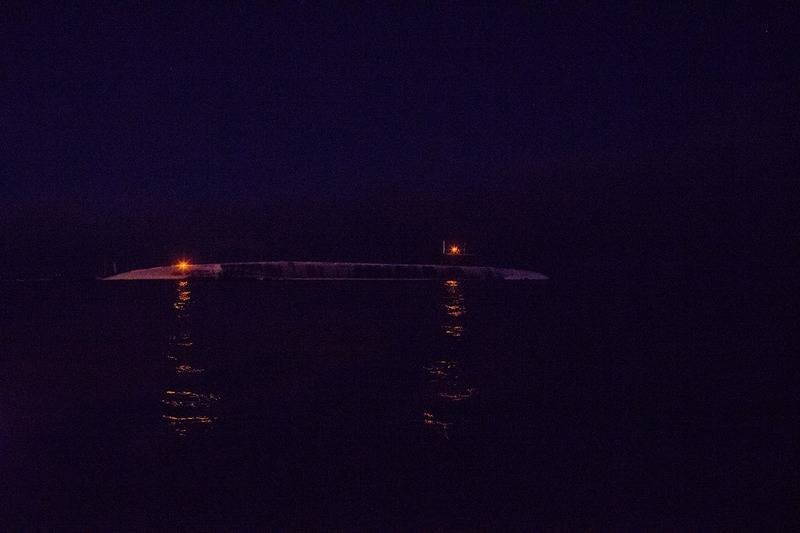 The first night exit on the factory running tests
It is reported that the nuclear underwater missile cruiser "Prince Vladimir" first came out of Severodvinsk to conduct a set of factory trials. The submarine cruiser was laid on Sevmash in Severodvinsk on July 30 2012 of the year, the output from the workshop took place on November 17 of 2017. According to the plans of the Ministry of Defense of the Russian Federation, the transfer of the nuclear underwater missile carrier "Prince Vladimir" to the Russian Navy should take place in the 2019 year.
Currently, construction of serial submarines of the project "Prince Oleg", "Generalissimo Suvorov", "Emperor Alexander III" and "Prince Pozharsky" continues in Severodvinsk.
It also received information that the construction of another two Boreans of the 2018A project was included in the state armament program for 2027-955. New submarine missile carriers must be laid no later than 2024 of the year and come into operation no later than 2028. Given the construction of these two serial submarines of the 955A Borey-A project, the total number of strategic missile submarines of this project will increase to 10. It is also not excluded that after 2027, the construction of submarines for this project will continue.