Poroshenko barely manages to distribute interviews to Ukrainian and American media. One of the American TV channels, whose journalists decided to interview the president of Ukraine, was NBC. During the interview, Petro Poroshenko was asked about what he expected from the possible meeting of the US and Russian presidents during the Big 20 summit in Argentina.
Poroshenko decided to go so far in his answer that he even presented the words that Trump will say when meeting with Putin:
Everything can be short, just in a few words: "Get out of the territory of Ukraine, Mr. Putin!"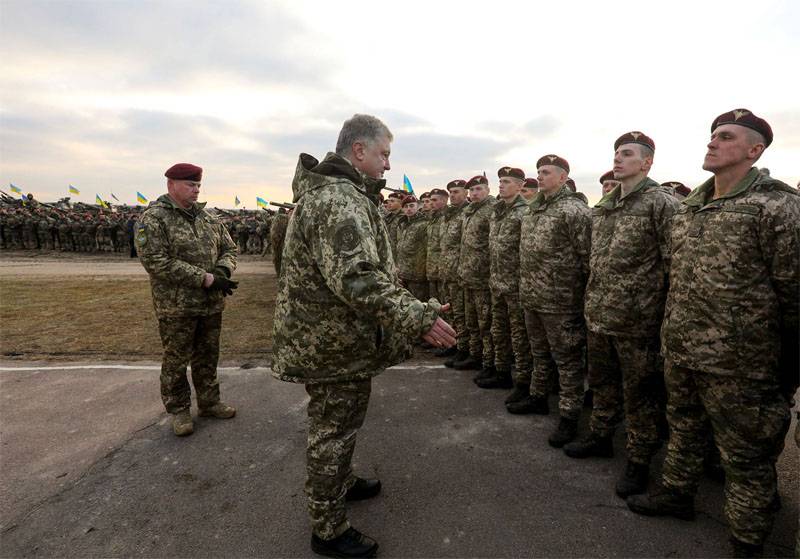 Perhaps this is the first time in world practice when one president is trying to present a future statement (if there is one at all) of another president.
Also during the interview, Petro Poroshenko suggested what the NATO (and specifically the American) "support of Ukraine" could be. According to Poroshenko, it may be the introduction of additional NATO ships in the Black Sea. In other words, the President of Ukraine is in fact trying to push its "partners" to violate the Montreux Convention, which limits the total tonnage and the time spent in the Black Sea water area of ​​warships of non-Black Sea countries.
Poroshenko:
In this situation, I count on the United States. The entry of warships into the Black Sea will have global security as a target.
According to Poroshenko, "we can not allow Russia to occupy the Black Sea."
After that, the President of Ukraine stated that in any case, "Ukraine has broken off with Russia, since it does not think of itself as part of the Russian Empire, a Russian colony."
Of all the statements of Petro Poroshenko, we can conclude that the current Ukraine thinks of itself as a colony of the United States of America, if it offers accommodation on its territory of American bases, transfers the army to NATO standards, complete dismantling of the economy in American interests - in order to maintain the source of instability Russian borders.